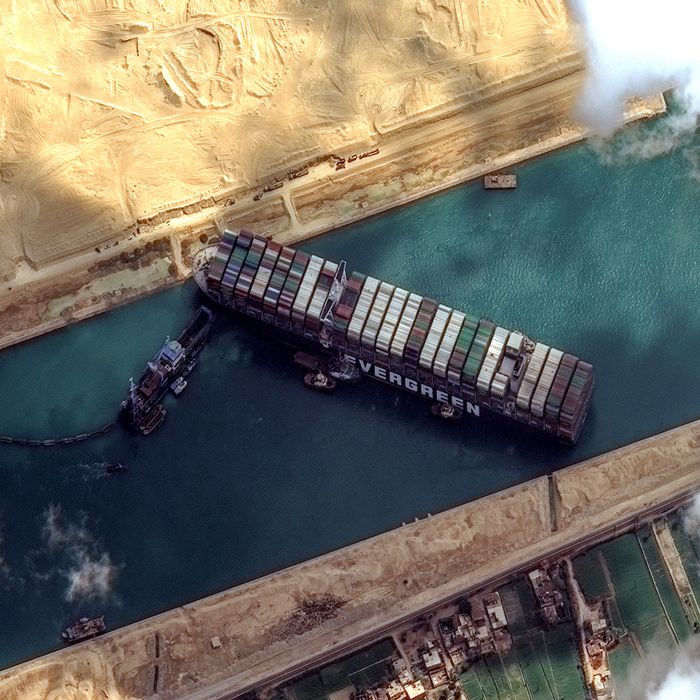 The
Ever Given
, lodged on the sandy banks of the Suez Canal.
Photo: DigitalGlobe/ScapeWare3d/Getty Images/Satellite image (c) 2021 Maxar Technologies
Big Boat news: The one that's been firmly lodged sideways on the sandy banks of the Suez Canal is finally not so stuck. After obstructing a key global trade route for nearly a week, the Ever Given, the massive cargo ship whose misfortune has captivated the world, is now fully free, thanks to crucial assistance from the moon, the New York Times reports.
Ever since the behemoth boat (which is 1,312 feet long) ran aground in the canal (which is 670 feet wide) on its journey from China to the Netherlands, the Canal Authority has deployed a predictable set of tools to unwedge her, including salvage teams who worked around the clock, tugboats, ropes, and other machinery. But it wasn't until Monday morning that she made meaningful progress, when in stepped a force more powerful than any manmade tool: a full moon. Salvage teams had been counting on the moon to provide assistance, and she did not disappoint. As expected, the moon brought higher water levels — by as much as 18 inches — in the form of a "spring tide," which lifted the ship and started to free her stern from the shoreline.
Around 3 p.m. local time, after tugboats helped dislodge the vessel's bow from sand and dirt, the Ever Given was liberated. Now that the ship is fully afloat, marine traffic in the area can be restored.
"Egyptians have succeeded today in ending the crisis of the stuck ship in the Suez Canal despite the great complexities surrounding this situation in every aspect," Egyptican President Abdel Fattah el-Sisi tweeted on Monday morning. And yes, many thanks to the salvage teams, who worked diligently to fix this costly traffic jam. But really, no mention of the moon? Let's give credit where credit is due.