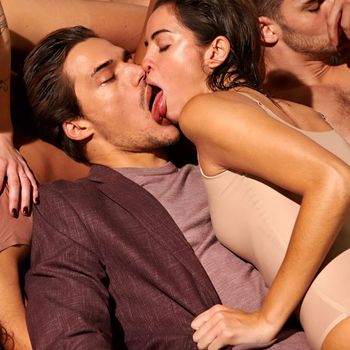 Someday — hopefully sooner rather than later, but who knows — we will find ourselves in a post-vaccine world. How do you plan to spend those first heady days in public without a mask and the constant fear of transmitting a deadly virus to those around you? Will you go to a movie theater? Eat inside a crowded restaurant? Or will you put on a nice tailored suit and writhe around on the floor with a dozen friends and strangers, feeling each other up and lapping at each other's wet mouths like thirsty hounds?
According to the company Suitsupply, the answer is definitely that last thing. The suit orgy. The online suit retailer just launched a new ad campaign that reads "The New Normal Is Coming" and features images of attractive people open-mouth kissing each other like middle schoolers who have only heard in vague, broad terms what making out with someone entails. Some of the people in the ads are wearing suits. A lot aren't.
Responses online to the campaign varied from "What?" to "Ew" to "That seems nice, actually":
As Esquire's Jonathan Evans notes, this risqué approach to ads is not new for Suitsupply. One of their former campaigns included a picture of a miniaturized man in a vest, nestled in the cleavage of a gold bikini–clad model while she licked his head, like a sexy mother cat cleaning her finance-bro kitten.
Suitsupply's official line on the campaign, per Esquire, is that it is "simply a positive outlook on our future where people can get back to gathering and getting close."
What optimism!