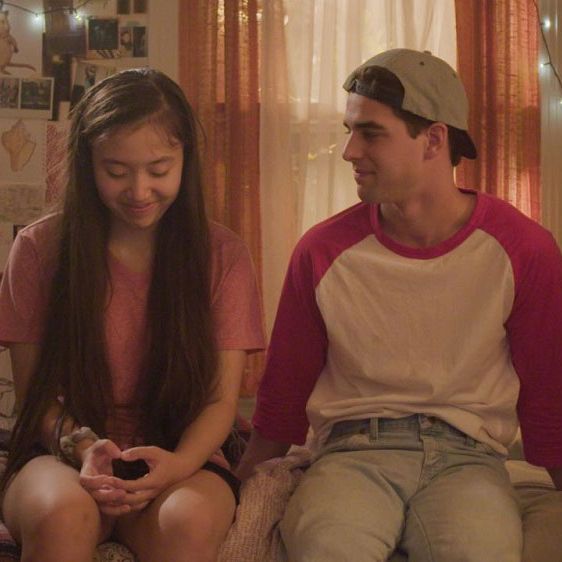 Photo: Pineapple Field Productions
One of my more firmly held unpopular opinions is that the To All the Boys franchise is bad and its protagonist, Lara Jean, is disappointing. You can read an extended explanation here, but my main beef is pretty straightforward: LJ is cut from the same cloth as those beloved teen heroines from the '80s and '90s, and that's not a good thing. When you look closely at those characters (Molly Ringwald and her ilk), they haven't really evolved beyond a shared set of traits — traits that are marked by compliance and insecurity, and generally founded on backward romantic notions.
This makes more sense when you remember that the movies and shows about teenage girlhood in America have historically been made by white men (featuring white heroines) for girls. And this may be part of the reason why you get something that feels a lot fresher with Angie Chen, the heroine of Mei Makino's Inbetween Girl, which won the visions award at last week's digital SXSW festival. The film, Makino's feature debut, is still a coming-of-age story, still deals in young love, and still places a ritual emphasis on the annual events of American high schools. But it's the first thing I've seen in some time that says something different about teen girlhood than its predecessors.
Inbetween Girl tells the story of Angie Chen, played by the excellent Emma Galbraith, a young actor Makino found in Austin, Texas, where she taught film before embarking on her own. Makino herself is from Galveston, where the movie takes place. We meet Angie at her Episcopalian high school, where she's dealing with the usual horrors of senior year: prom, popular girls, and sex. Indeed, much of the story deals in Angie's liaisons with Liam (William Magnuson), the douche-y dreamboat she's secretly sleeping with (because his influencer girlfriend is "too Catholic" for all of that).
But much of the drama, and where Inbetween Girl stands apart, comes from the identity reckoning Angie faces following her parents' divorce: When her Chinese father and white mother split up, her dad begins dating a Chinese woman whose daughter, Fang (Thanh Phuong Bui), seems to be perfect in all of the ways Angie isn't — academically, aesthetically, and in her Asian-ness. It's here that Angie's teenage experience is further complicated, as she begins to deal with the confusing questions that come with growing up biracial — "inbetween" cultures and races, if you will.
It's a big and difficult task, but Makino handles it with a nuance and curiosity that recent works with mixed-race leads — TATB chief among them — have failed to in any substantive way, a fact that feels especially disappointing when many more films and shows seem to be deliberately writing biracial leads. And while I wouldn't go quite so far as to call Inbetween Girl the anti–To All the Boys, it's close, and if you felt disappointed by the latter's disinterest in questions of belonging, Angie Chen is a fully realized hapa, and Makino's film is a counterpoint worth your time.
Inbetween Girl premiered at the SXSW Film Festival, but hasn't been acquired for distribution. Look out for more news about their theatrical and/or VOD release.