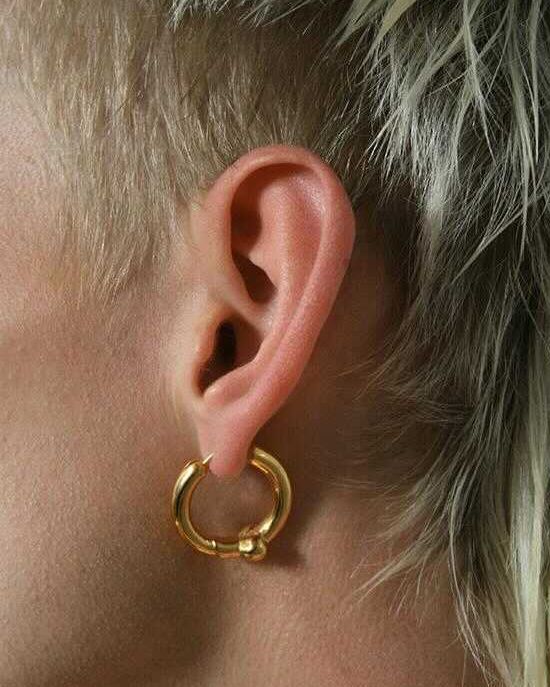 Photo: Courtesy of Mutter
Between all the Fashion Month stimuli and creepy news, it's nice to divert my mind to pleasant things — like modest vacation days and Vietnamese princesses on the red carpet. But after a long, hard, sexless year, all I've been thinking about is how I'm ready to be touched. And with more and more people getting vaxxed, those prospects are looking up. Until then, though, I'm happy to satisfy my thirst with some horny jewelry.
I am, of course, talking about this earring from London-based brand Mutter. Aptly called the "cock earring," the hoop is girthy enough on its own to make a statement. Add a pair of balls and, suddenly, it's a work of wearable queer art. In fact, the earring is sold in singles, rather than pairs. Obviously, if you're into two at the same time, you can get another, but wearing a single dangling earring is a nod to the LGBTQ+ community and playing with gender tropes. It's a styling choice that truly does not discriminate.
Helena Vieira, a product designer turned sword forger and metalsmith, is the founder and creative director of Mutter. She grew up in a deeply religious family, and the relics that adorned her childhood home profoundly influenced her; this is apparent in her jewelry's recurring nail and cross motifs. Needless to say, what was once considered sinful also makes a triumphant appearance, as in the cock earring and medallions featuring a heart boner. Vieira says, "Mutter is a collection of modern jewelry for the timeless femme." In this case, it's for a femme who likes dick.
If that's your sort of thing, you can find the earring here.