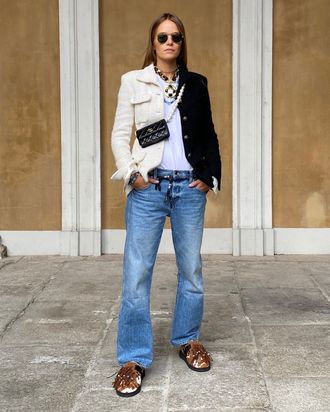 Photo: Courtesy of Alanui
Carlotta Oddi's taste is as luxe as it is eclectic, landing in the rare Venn diagram overlap between "cozy" and "cool." A fashion editor at Vogue Japan, she started the brand Alanui with her brother. It's built around a single item: a unisex, oversized Jacquard cashmere cardigan with fringe and a two-toned belt. Each season, the brand remixes it in a variety of patterns and colors.
"From a young age, I have been drawn to fashion as a form of expression. The opportunity I had to work as a fashion stylist at Vogue Japan pushed me to start Alanui in 2016," Oddi told the Cut. "Alanui has been a beautiful journey shared with my brother Nicolò, and I am so excited to see where it will take us. We keep growing and getting better at what we do each and every day."
We spoke with Oddi about her very luxurious, very Italian taste.
What's one piece from your spring/summer 2021 collection that's especially meaningful to you?
The Regenerated Dream Big Cardigan is definitely a big-time favorite. It merges the two iconic patterns that I designed for Alanui, the Icon and the Bandana, merged in a Jacquard piece in regenerated cashmere.
How do you thank someone for a gift?
I really like gifting white orchids.
What would you never wear?
Anything lilac, really.
What's your dream vacation?
Going back to Hawaii.
What's a good book on your coffee table right now?
Women Who Run With the Wolves by Clarissa Pinkola Estes.
Last show you binge-watched?
The Chanel fall/winter 2021 show. I loved Inez & Vinoodh's film aside from the collection itself.
What's your guilty pleasure?
Il panettone.
Secret to hosting a good party?
I think all you need is good friends and wine!
Favorite restaurant in New York?
Balthazar, always!
What's the one thing you could eat every day for the rest of your life?
Toast, prosciutto, and cheese.
Shoes you wear most often?
Bottega Veneta boots, sandals, and Alanui x Suicoke mules.
What are five inanimate objects that bring you joy?
"These are my favorite pair of denim ever."
"Hermès bandana foulard … I never go out without it!"
"A season-less carryover."
"An Hermès Kelly bag is timeless."
"My sofa, the Strip by Cini Boeri, is super comfortable."