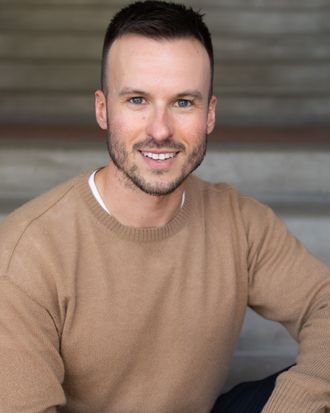 Photo: Courtesy of Alex English
About five years ago, Alex English quit his standard white-collar job and embarked on a new path in Milan, where he received an MBA in Innovation and Marketing at Bocconi, one of Italy's best business schools. Now, he's at Italist, an online retailer offering luxury Italian brands at Italian retail price, which is typically about 30 to 40 percent lower than what you'd find around the world.
In his current role at Italist, English uses his eye for fashion and communications background to put together trend reports for the brand's digital magazine. "I grew up with an appreciation for clothing and shopping," he told the Cut. "Buying outfits with my mom at Gap and Banana Republic was among one of the greatest highlights of my adolescence. I saved up for my first Gucci wallet and purchased it during a spring break, and the rest is history."
We spoke with English about dressing with discretion, binging RuPaul's Drag Race, and taking frequent naps.
What's one item on Italist that's especially meaningful to you?
I'm drawn to investment pieces, like this Maison Margiela denim jacket that you can wear every day — not only for special occasions. A quality denim jacket is a closet staple in my opinion, especially living in Los Angeles, where it's never cold enough for a heavy coat but often cool enough for a light jacket.
How do you thank someone for a gift?
I'm pretty big into handwritten notes. My friends and network would corroborate this. I think the power of someone's unique penmanship and quirks, in conjunction with the actual experience of receiving a letter in the mail (that isn't junk or a bill), is truly special.
What would you never wear?
Probably anything heavily branded. I know it goes against many of today's fashion conventions, but I'd prefer to use a bit more discretion with the brands that I'm wearing. I just don't care to be a walking billboard, especially if the piece is an expensive investment. I believe the style (color, shape, drape, and texture) should tell the story, rather than the brand name itself. In my opinion, at the very least, it shouldn't be the first thing people notice.
What's your dream vacation?
Honestly, I've been fantasizing a lot recently about going to places that are wide open and wild: Glacier National Park in Montana, Chile and Southern South America/Patagonia, somewhere in the Italian countryside with only the sounds of birds and rustling leaves.
What's a good book on your coffee table right now?
For Christmas, I got a really fascinating book called The Evolution of Beauty: How Darwin's Forgotten Theory of Mate Choice Shapes the Animal World —and Us. It offers an interesting perspective on scientific theory, the animal world, and how humans perceive beauty.
Last show you binge-watched?
I was blown away by the Night Stalker docuseries on Netflix. On any given day, you can find me watching RuPaul's Drag Race, either current or past season. Trust me when I say that season two of RuPaul's Drag Race UK is unbelievably good. I also really loved HBO's The Undoing and watched Bridgerton with my friends and family in Florida over the holidays.
What's your guilty pleasure?
Frequent naps. Nothing helps me reset and refresh more than a quick 35 minute catnap. The only pitfall is forgetting to set the alarm! Also pastries from the café in my building. I live above a fantastic coffee shop that also does amazing, classic pastries with a modern twist. Today they had poppy seed, spelt, blueberry, and blood-orange hand pies.
Secret to hosting a good party?
In my opinion, it's essential to offer a lot of libation options. Personally, I'm not a big drinker, so I appreciate when there are other things available to enjoy. It's also important to invite people who like to meet new people and are generally friendly. Don't run out of ice. Make it a potluck to take some of the hosting pressure off. Last but not least, don't forget to participate and enjoy, rather than stressing about whether or not your guests are enjoying themselves. They will if you do!
What is a trend that you like right now?
I love that luxury is starting to influence technical wear and vice versa. Nike's designs and collaborations are getting more and more interesting. And in general, I think it's great that "looking stylish" seems to be moving away from simply the designer or the expense of an item, but rather just focusing on what's cool, you know?
One you don't understand?
I love Daniel Lee's new take on Bottega Veneta, but so many times I see garments that are either cropped with long sleeves, or are super baggy, and I just can't wrap my head around those looks. I think they're likely designed for slender people over six feet. I'm five-foot-nine and athletic, so probably just not meant for me.
Favorite restaurant in New York?
Le Botaniste! I am moving toward a more vegetable-centric lifestyle/diet and love being able to go somewhere and get really delicious, healthy food. Then for dessert, something indulgent but not entirely guilt-inducing.
What's the one thing you could eat every day for the rest of your life?
It may sound kind of boring, but I love a big salad with lots of healthy but delicious ingredients in it. I typically opt for a spinach base with an avocado, a can of tuna, and toasted nuts. Add in some goat cheese, and boom!
Shoes you wear most often?
Lately, probably my Nike workout sneakers. Otherwise, you can generally find me wearing a pair of Malibu x Missoni woven clogs. They're a bit like Crocs or Birkenstocks but less ubiquitous and, in my opinion, better-looking.
What are five inanimate objects that bring you joy?
"I hate carrying items in my pocket so I'm a big fan of a simple canvas tote. I tend to swap them out every two to four months, depending on how beat up they get, and strongly believe that free ones are the best. I am currently using the very cliché free tote from The New Yorker. I also love inexpensive ones that have something interesting on them like this one that I bought for a friend for Christmas from House of 950, a local brand in L.A."
"I write everything down and usually have at least three notebooks open on my desk with lists, ideas, or really any thoughts that I need to get out of my head but also remember. I find that Japanese brands of spiral notebooks, with lined pages and extremely smooth paper, are the best. This is the one I'm using for work."
"I love fragrance but tend to gravitate towards scents that are subtle and enhancing, rather than overpowering. Aesop's Hwyl is fantastic — a dry, minimally sweet, woody fragrance that's also quite affordable for being an eau de parfum, which is more concentrated than an eau de toilette."
"I discovered these amazing acrylic bowls at Eataly in L.A. They're colorful, virtually indestructible, and dishwasher-safe. I have a few colors and gave a bunch of them away as gifts. They make me happy when I'm eating cereal or using them as snack vessels."
"Lina Hanson's Global Calm serum is really lovely. I'm admittedly not a beauty snob but have always had sensitive skin, which easily develops redness, so anything that's cooling and calming is what I need. I like that Lina's products are small-batch and about as pure as you can get without making your own!"