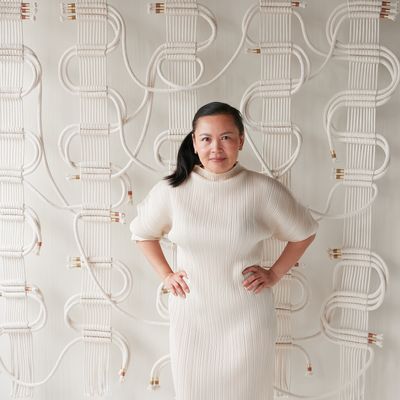 Back in 2016, artist Windy Chien was making macramé — the same plant hangers that every beginner makes — and feeling constrained by the craft. She was only using a handful of different knots, and it wasn't enough for her. "I had a light-bulb moment," she told the Cut. "I decided to learn one new knot every day of that year. In doing so, I earned fluency in what is now the language of my art."
She also started posting her daily endeavors on Instagram, which allowed her to reinvent her life and her career. Through Instagram, she was able to publish a book, The Year of Knots, describing how a spontaneous project led her on a path of creative discovery.
Given her expansive knowledge about hundreds of knots, her work now ranges in size from ones that can fit in the palm of a child's hand to room-size installations bought by private collectors. Her pieces can tackle major philosophical concepts: One of them, a series titled Circuit Boards, explores the contrast between "male-dominated fields of transit maps and electronics parts via gendered associations with 'women's work' — the skills of macramé, passementerie, weaving," as she puts it.
We spoke with Chien about her favorite work she has created, dumplings, and her love for Issey Miyake Pleats Please.
What's one of your works that's especially meaningful to you?
The Circuit Boards are my favorite body of work. They combine my fascination with early technology, transit maps, and Diana Vreeland's maxim that "the eye has to travel."
How do you thank someone for a gift?
A handwritten note, because you can be thoughtful with telling them how much the gift means to you.
What would you never wear?
A MAGA hat.
What's your dream vacation?
A week on a small boat tooling around the Mediterranean with the Sailing Collective and the same group of friends. I do this every summer, but because of the pandemic, this year, I'm going to stand-up paddleboard at Lake Powell.
What's a good book on your coffee table right now?
Beyond Craft: The Art Fabric and Everything She Touched: The Life of Ruth Asawa.
Last show you binge-watched?
Watchmen … wow.
What's your guilty pleasure?
Shopping for vintage on Etsy and Vestiaire Collective.
Secret to hosting a good party?
Playing Werewolf and/or showing all my friends how cool virtual reality is.
What is a trend that you like right now?
There are more and more profound and thoughtful video games that are being designed with fun, beauty, art, and emotion in mind, such as Gris and Manifold Garden.
One you don't understand?
Not wearing masks. WTF?
Favorite restaurant in New York?
The last time I was in New York, I was alone installing art. This was right before COVID-19. I took myself out to La Grenouille for a classic French meal served by charming older men brandishing soufflé. It was perfect. I love eating alone while traveling.
What's the one thing you could eat every day for the rest of your life?
Pork, cabbage, and ginger Chinese dumplings (jiaozi).
Shoes you wear most often?
My Bryr clogs. I have six pairs! The new platforms are so advanced and make every outfit better.
What are five inanimate objects that bring you joy?
"Because I haven't cut my hair in over a year, I can finally wear the messy topknot, which means scrunchies. My flat scrunchie is the chicest scrunchie ever, which @theprophetpizza found for me."
"It removes every speck of dirt, smells amazing, and is all natural."
"Masks sewn from vintage Japanese fabrics at Paloma."
"My navy nubuck Bryr clogs, which Bryr gifted me to celebrate when my book was published in 2019. Bryr is designed by women, handmade by women, and your ankles look tiny in them."
"Issey Miyake Pleats Please forever, preferably bought via Stand Up Comedy. It is age appropriate, no matter what your age. It goes with everything, and it packs down to nothing, since I travel often for work."