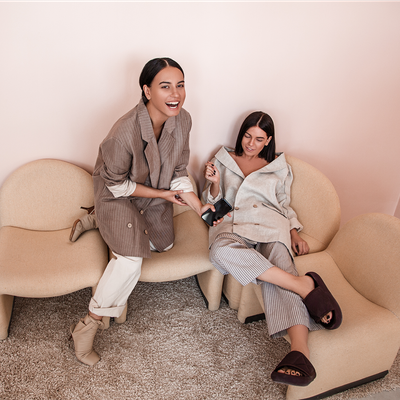 Photo: Courtesy of Ushatáva
Despite having zero experience in fashion, Nino Shamatava and Alisa Ushakova created a brand that became successful across Russia in just a couple of years. Previously, Shamatava was a lawyer and Ushakova was an economist. But the two quit their jobs to make the kind of clothes they couldn't find in their Siberian hometown, Yekaterinburg — items like oversized suits paired with sporty undergarments. Their brand, Ushatáva, is a mash-up of their names. "We've always dreamed of a basic genderless wardrobe that can be worn together with your soulmate," the duo told the Cut.
In the absence of investors, Shamatava and Ushakova dipped into their own savings, learned how to sew, and created their first collections with the help of friends. They promoted the brand on Instagram and, in just a few years, were able to open stores in Moscow, St. Petersburg, Yekaterinburg, and Almaty, Kazakhstan. Now, they're ready to bring Ushatáva to the States.
We asked Shamatava and Ushakova about the items they never take off, traveling across the Americas, and small talk. Read on for their answers, which they sent to us in tandem.
What's one piece that's especially meaningful to you?
Nino is in love with a classic black Ushatáva shirt in cotton or silk, or with an open back or a usual one — it doesn't matter. The most important thing is that it never leaves her wardrobe.
Alisa doesn't take off our huge black leather jacket.
How do you thank someone for a gift?
Depends on who and for what. The range of "thanks" is very large, from a nod to the desire to get the person to the moon and back.
What would you never wear?
We won't fall for this one anymore! Fashion is cyclical. What goes around comes around, so never say never. We change, and the world does too.
What's your dream vacation?
We've created a dream route around America which we're looking forward to doing when the borders open.
What's a good book on your coffee table right now?
Peggy Guggenheim's memoirs.
Last show you binge-watched?
We are in love with RuPaul's Drag Race.
What's your guilty pleasure?
A little bit of McDonald's in the morning after a party. And sometimes it's a lot of McDonald's!
Secret to hosting a good party?
A little spontaneity and some happy accidents that suddenly bring close friends together.
What is a trend that you like right now?
Sincerity — internal and external. That's exactly what we're trying to broadcast through our brand, which helps everyone find their true selves as much as possible.
One you don't understand?
Superficiality, like small talk. It's something we never understood because we always dive deeply into anything we do, even if it's not related to fashion.
Favorite restaurant in New York?
Colonia Verde. We are very connected to Brooklyn and inspired by its vibe and the variety of places it offers. Colonia Verde is a perfect oasis, both for food and atmosphere. It makes you feel like you are on vacation.
What's the one thing you could eat everyday for the rest of your life?Buckwheat! We know it's not the top product in America, but it has been our most favorite thing since childhood.
What are five inanimate objects that bring you joy?
"It's rare to find something as laid back as possible that you can safely wear outside and feel very comfortable in."
"First of all, it's pleasant to buy Gentle Monster while in Seoul. These are really the most comfortable glasses! The main bonus is that they go with absolutely everything."
"We are crazy about perfume. Sometimes we use classics like Chanel, and sometimes, we find incredible novelties from Europe."
"Vereja is a brand that's pleasant to watch. You never get tired of it."
"We all should live in style."