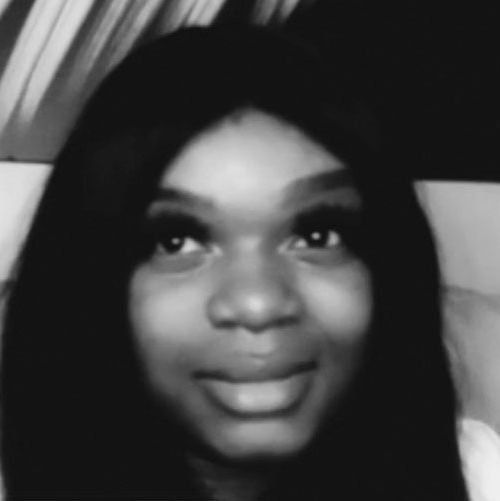 Photo: PEN America/Shutterstock
Darnella Frazier, the teenager who shot the viral video of George Floyd's death last May, broke down in tears on Tuesday while recounting her experience at the trial of Derek Chauvin, the man charged with killing Floyd. During her testimony, she described the impact the video has had on her life.
"When I look at George Floyd, I look at my dad. I look at my brothers, I look at my cousins, my uncles, because they are all Black," she said, choking up. "I look at how that could have been one of them. I've stayed up nights apologizing to George Floyd for not doing more and not physically interacting and not saving his life. But it's not what I should have done," she said. "It's what he [Chauvin] should have done."
Frazier's testimony marks the first time she's spoken out in depth about the footage that helped spark a summer of racial protests and the largest civil-rights movement since the 1960s. The roughly nine-minute video shows Chauvin's knee digging into Floyd's neck as the man begs for his life and then goes limp. The former officer looks directly at Frazier's camera, expressionless, while bystanders yell out in concern.
On May 25, Frazier, then 17, said she was taking her 9-year-old cousin to the store to buy snacks when she saw officers restraining Floyd on the ground. She told the young girl to go inside so she wouldn't see what was happening and then pulled out her phone and began recording. "It was like a natural instinct," she told the Star Tribune last year. "The world needed to see what I was seeing. Stuff like this happens in silence too many times."
On the video, she captured Floyd repeatedly saying "I can't breathe" and crying out for his mom. Frazier told the court he was "terrified" and "suffering" and "seemed like he knew it was over for him." The next day, that footage went viral, and Frazier went back to the crime scene where she sobbed and said she was traumatized. "I watched this man die," she said in a video captured by NowThis. "Everybody's asking me how do I feel? I don't know how to feel, 'cause it's so sad."
Frazier says her life changed forever after posting the footage online. She was bombarded with so much attention that her family had to temporarily move out of their house, around the corner from where Floyd was killed, to an undisclosed location. Two days after the incident, she posted to Facebook that she was being harassed: Some were accusing her of sharing the footage to get attention while others were criticizing her for not doing more ("I don't expect anyone who wasn't placed in my position to understand why and how I feel the way that I do," she wrote on Facebook. "I am a minor! 17 years old, of course I'm not about to fight off a cop I'm SCARED wtf.") A few weeks later, her lawyer, Seth Cobin, told CBS she was receiving professional help for her mental health. "Her entire life has been turned upside down," he told Gayle King. "She went from [being] just another 17-year-old, going to high school, working her job, having friends and a boyfriend … to being the center of media attention." In December, Frazier virtually accepted the 2020 PEN/Benenson Courage Award from PEN America, presented to her by Spike Lee.
While Frazier hasn't given any detailed media interviews since the incident, in the weeks leading up to her testimony she posted to Facebook that anyone who thinks Derek Chauvin was "just doing his job" is "a part of the problem." On March 9 she wrote, "I can't go to sleep in silence, my mind will eat me alive."
In the courtroom Tuesday, she said she had watched Chauvin kneel harder into Floyd's neck as she and other bystanders raised their voices. Frazier spoke about feeling threatened by Chauvin and his partner, officer Tou Thao, who she said put their hands on their bottles of Mace spray to dissuade witnesses from intervening. She described herself as someone with social anxiety who tends to bottle up her feelings, but felt the need to speak up as she witnessed Floyd's death.
After Frazier left the stand, her lawyer told the Cut in a text message that she is "doing very well." "I think she found the experience of testifying to be empowering," Cobin said.