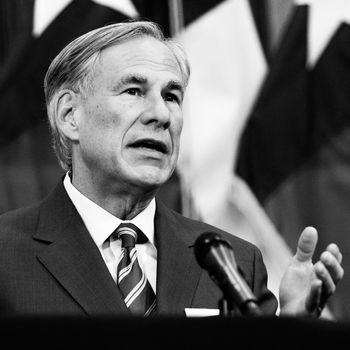 Texas Governor Greg Abbott.
Photo: Lynda M. Gonzalez/Getty Images
Unfortunately, it is March, meaning many of us will be experiencing some uncomfortable déjà vu: It has been nearly one year since the World Health Organization declared global coronavirus outbreaks a pandemic; nearly one year since many U.S. cities started some version of a lockdown. Despite some hopeful signs — namely, vaccines— the situation nationwide remains dire: So far, more than 515,000 people have died from COVID-19 complications, and the CDC suspects virus variants could soon produce (oh God) a "potential fourth surge." With all that in mind, now really does not seem like the time to dispense with precautions. Nonetheless, Texas Governor Greg Abbott announced Tuesday that he would lift his state's mask mandate and allow all businesses to fully reopen starting March 10.
"Removing state mandates does not end personal responsibility and caring for your family members, friends, and others in your community," Abbott explained, per CNN. "People and businesses don't need the state telling them how to operate."
Recent experience does not stand in Abbott's favor, though: Last spring, he was among the first to lift COVID restrictions, allowing businesses to begin reopening in early May. The state's caseload spiked in the weeks that followed, prompting Abbott to issue a mask mandate in July. Public-health experts blamed the rising infection rate on Abbott's decision to abandon pandemic protocol too early. Although Texas has seen its case count ease lately — per the New York Times, there has been an 18 percent decline over the past two weeks, with an average of 7,693 new cases recorded daily — its vaccination rate remains low. Meanwhile, new and highly contagious variations of the coronavirus have been spreading throughout the U.S., threatening to undo "the hard-earned ground we have gained," CDC director Dr. Rochelle Walensky said Monday, adding that she was "really worried" about states prematurely "rolling back the exact public-health measures we have recommended to protect people from COVID-19."
So far, her fears appear founded. Shortly after Abbott announced his decision, Mississippi Governor Tate Reeves jumped on the bandwagon. "Starting tomorrow, we are lifting all of our county mask mandates and businesses will be able to operate at full capacity without any state-imposed rules," he tweeted. "Our hospitalizations and case numbers have plummeted, and the vaccine is being rapidly distributed. It is time!"
While Mississippi has also seen a decline in infection rates over recent weeks, NPR reports that just 7.6 percent of residents have been fully vaccinated against the virus and 14.1 percent of residents have received one dose. Nationally, the country is still seeing an average of about 68,000 new cases per day. Meaning that "things are tenuous" and "now is not the time to relax restrictions," as Walensky put it on Friday. "We may be done with the virus, but clearly the virus is not done with us."