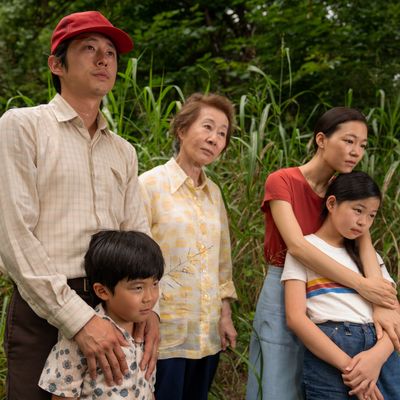 Photo: Josh Ethan Johnson/A24
The 2021 Oscar nominations were announced this morning, and they weren't bad. It seems, after the annual calamity that is the Golden Globes (and the possible reckoning that its ridiculous voting body may be having), that Academy voters did a bit of research.
I say that because this year's nominees were full of firsts: British Pakistani actor Riz Ahmed is the first Muslim to be nominated for Best Actor in a Leading Role for Sound of Metal, while Chloé Zhao is the first woman of color to be nominated in the Best Director category for Nomadland (Emerald Fennell's nomination in the same category makes it the first time in the ceremony's history that more than one woman will be joining the category in a single year.) Also historic is that two Asian American directors received nods: In addition to Zhao, Lee Isaac Chung was nominated for Minari. 
Which brings us to the happiest news of the morning. There was fear that Minari would be barred from the major award categories, especially after the Globes placed it in the foreign-film category over arbitrary language rules. Instead, it received five nominations in addition to Best Director: Best Picture, Best Original Screenplay, Best Score, and two acting nominations (Best Actress in a Supporting Role for Youn Yuh-jung, and Best Actor in a Leading Role for Steven Yeun).
There are more good (and historic) nominations, and these are heartening. It doesn't mean that Hollywood and its most ostentatious ceremony are fixed — both are historically racist and elitist institutions, and a year of good nominations won't reverse that history. In fact, unless all of the major awards ceremonies are completely gutted, or everyone stops caring, or all of the boomers in charge retire, it'll be a long time before things start to look entirely different.
But representation matters, and these awards matter. I wish they didn't, but everyone from your weird uncle who loves the movies to studio executives take cues from them. And it's encouraging to see the people of color — the creators, actors, and behind-the-scenes artists — be awarded for their work, something that felt almost impossible a few years ago. In fact, it's the most diverse year yet — if only it didn't take nearly a century to get here.