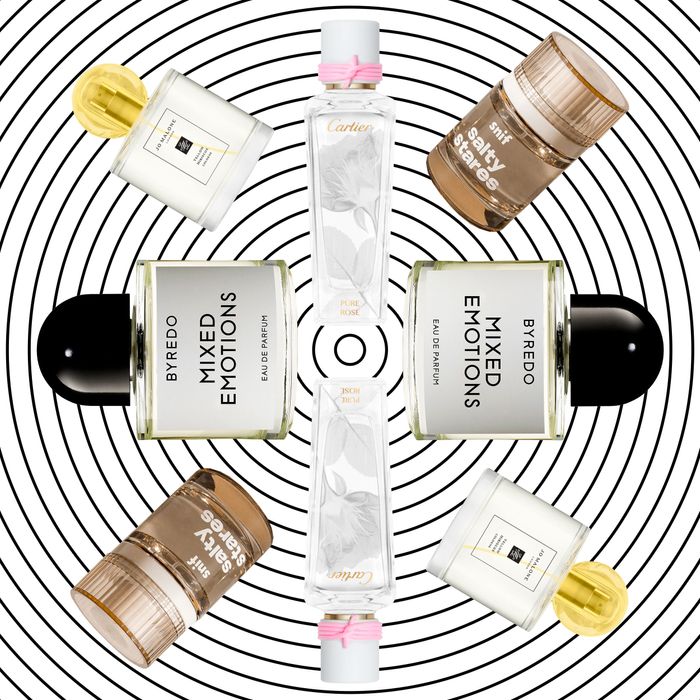 Photo-Illustration: The Cut; Photos: Retailers
A year into the pandemic, with the pace of vaccines picking up but infections still raging, people across the country are experiencing a range of emotions: worried, numb, exhausted, and even mildly, cautiously hopeful. All of these feelings are captured, oddly enough, in spring's newest slate of perfumes. Normally, the season means florals, brights, greens — the usual earth-awakening stuff. But this time, the scents feel a little more complex. Here are eight that speak to the hyperspecific mixed emotions of the moment.
The One That's Literally Named 'Mixed Emotions'
What better phrase to sum up how we are all feeling? Sometimes, we are okay and sometimes we are not, and this perfume is that feeling in a bottle. The scent oscillates between two hazy extremes for me — dry and woodsy, and a sweeter, almost raisiny, black currant and violet. They blend together to create a slightly unsettling, not entirely comfortable, but very memorable fragrance that smells not exactly happy or sad, but somewhere melancholy in between. —Kathleen Hou, Beauty Director
The One That's an Everyday Staple
Snif is the Stitchfix of perfume — it sends three scents to try before you commit to buying one. Its first collection, which was followed by a collaboration with Harry Hudson, is nearly perfect. My favorite of the three scents is Salty Stares, which combines both feminine and masculine notes, including lily of the valley, ginger, and bell pepper (??). When I don't want to think too hard about what fragrance I'm wearing, I'll dab it on, knowing I'll smell incredible all day — not too sweet, not too musky. I can't get enough of it. —Kerensa Cadenas, Senior Editor
The One That Might Change How You Think About Roses
I've always thought there was something a little sad about roses wrapped in cellophane — the way the flowers are taken out of their natural element for a moment of manufactured pleasure. I'm pretty sure Cartier perfumer Mathilde Laurent feels the same way. Her new perfume, I Only Love Wild Roses, is a celebration of living roses in their own habitat. It's not about roses declawed of their thorns and stuck into a plastic bucket of bodega water. It's about capturing the greenness, the lushness, the beauty, the rawness, and truly thorny nature of the plant itself. —K.H.
The One With an Element of Danger
As a fan of musk and orange blossom, I've long enjoyed the Narciso Rodriguez family of fragrances. Their newest scent is darker and more mysterious than the others. It takes the laundry element of musk and combines it with the richness of plum to create a soft, velvety, yet seductive scent. It feels likes something you'd wear to have a drink with someone you think is fun, but don't entirely trust with your feelings. —K.H.
The One to Buy If You're Longing for Escape
This perfume smells like if you chucked it all and pursued the dream of moving to the tropics to sell flower necklaces and seashells on the beach. It's a heady floral that's slightly sweet and a little juicy at the same time. It's exactly the kind of perfume that Honolulu's top realtor would wear on her showings. —K.H.
The One That Cuts Right Through Stay-at-Home Monotony
Robert Piguet was a fashion designer in the '30s and '40s who trained other designers like Christian Dior. His fragrance Fracas, which he launched with perfumer Germaine Cellier in 1948, is so legendary that it has its own spot in the Fragrance Foundation Hall of Fame. It's always seemed one level above my Converse-clad existence, but then I tried a sample pack from Scentbird. Paired with tie-dye sweatpants, Fracas smelled divine. The notes of tuberose, jasmine, sandalwood, and musk settled on my skin in a cloud that was just sultry enough, never too sweet. My sweatpants transformed into a vintage silk shantung suit as I typed emails for the rest of the day. I hadn't felt that fabulous in weeks. —K.C.
The One That Smells Like Miami
19-69 was founded by the artist Johan Bergelin, who was inspired by the year 1969, because it "represents an era of freedom, tolerance, and counterculture" (it's also the year he was born). I love how each fragrance is described as its own unique world, and the one for Miami Blue stopped me in my tracks. Did I want to visit a glass-bricks paradise, full of sun and drinks with tiny umbrellas? Why, yes. Yes, I did. Plus, the notes of lemon, ginger, and cocaine accord made me intensely curious — what does cocaine accord (a perfume term that basically means notes blended together to create a new scent) smell like, exactly? Turns out it smells like that one time I went to Miami and befriended a bunch of Miami housewives on the beach. It smells like sun, sand, and ocean with a kick (maybe that's the cocaine). It made me want to spend the summer tangoing with Colin Farrell and his ponytail. —K.C.
The One That Smells Like Watching Someone Belt Out a Song
The last Broadway show I saw was Six, a musical about Henry VIII's ill-fated wives, which felt like an I Heart Radio concert in the best way possible. I went with a very cool co-worker, and I wore a pair of Rebecca Minkoff tough-gal heeled black boots that I was afraid I'd trip in. If Bond No. 9's Off Broadway existed then, spraying it on would have made me feel even more dressed up. It's an intoxicating scent with black currant, sandalwood, nutmeg, and lily that lasts forever; you can smell it in your hair as you go to bed. Someday in the not-too-distant future, I'll wear it while getting my ticket checked at the box office, and the person behind me will get a whiff and say "What fragrance is that??" That's the kind of fragrance it is — the kind that makes the theater, and small talk with strangers, feel a little less far away. —K.C.
Every product is independently selected by our editors. Things you buy through our links may earn us a commission.