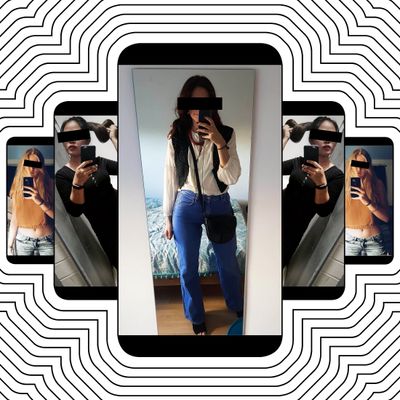 Now more than ever, people are experiencing fashion through their phones. In "Screen Time," fashion writer Emilia Petrarca shares all the screenshots, double taps, and swipes she made this week.
Last weekend, a very stylish friend of mind told me she started a fit-pic finsta, or a private Instagram account where she shares photos of her outfits.
"It's been hard to motivate myself to put on anything other than a house dress or sweats, especially because I live alone and work from home," she told me. "So I made a finsta because I thought documenting my looks might push me to actually put clothes on." Occasionally, she'll bless the world with an outfit photo on her main, public-facing account, where she has around 1,700 followers. But sharing looks with 20 or so friends on her finsta is more intimate and frankly, less "weird," as she put it. She can post as many outfits as she wants without feeling self-conscious, and followers will send her words of encouragement. It's more of a dialogue.
This friend of mine is now the third person to tell me they've started a private fit-pic account in the last year. By Newton's law, that means it's officially a trend. Someone else I know started one at the beginning of the pandemic as a way to keep track of passing time, and the contents of their wardrobe, which they were in the process of organizing. It served as a sort of Clueless-closet-slash-scrapbook. And then a third friend told me he started one as a sort of practice run before re-entering society. He only shares outfits on his Stories, and saves them to an archive on his profile.
"I wanted to start getting back in the habit of dressing — and having fun dressing," he told me. "It's been nice to think through what mood I want to cultivate and what kind of vibes I'm trying to achieve post-pandemic. I don't know exactly what the summer 2021 mood will bring, but I'm happy to have my little Instagram archive to see it through."
During lockdown, fit pics took on a new life. People were playing dressing up in their rooms, and the energy was very Edie Beale in Grey Gardens. The fit-pic finsta, as I see it, serves as a more sustainable outlet for this practice, but also as a way to re-center your own desires. What do you want to wear, as opposed to what you think hundreds and thousands of strangers (and the algorithm) will like? Instead of flashy outfits, my friend — the one who's cultivating post-pandemic vibes — says he's posted multiple photos in a row of "items that photograph terribly," like a dark olive late-'90s L.L. Bean coat he stole from his dad over the holidays.
Talking to my finsta friends made me realize that, in my quest to find the Biggest First Day Back Fits, I may have actually lost sight of my own personal taste. This week, I tried to focus my browsing on basics instead — the stuff I actually wear the most, and that makes me feel most comfortable.
Below, my week in scrolling.
Some Practical Basics
I still haven't figured out how to avoid yellow pit stains on white T-shirts, so every spring I find myself restocking. (I pledge that this will be the last year I do this.) Entireworld was having a 25 percent off sale last week, so I bought two sets of tees and tanks: one in black, and one in white. I'm sure I will also be purchasing a few more Uniqlo U T-shirts in the near future. Plus some more Hanes boys tank tops from Amazon.
I also purchased another pair of these boxer shorts from Calvin Klein to wear to bed. And these Montbell bags in two different colors. Plus, I'm considering a pair of black and white Bass Weejun loafers, which, of course, I'll have to wear with a cute pair of socks.
Some Not-So-Practical Not-So-Basics
Basics are obviously just a gateway drug for more fun pieces. I was admiring this pink tulle T-shirt by Noir Kei Ninomia (below), which I think would go great with a huge pair of pink Stussy shorts. As my roommate pointed out, though, I shouldn't buy a shirt to go with bottoms I don't even own yet.
I also ooh-ed and ah-ed at this crystal J.W. Anderson harness, which would make any boring T-shirt way better.
Something to Go in the Background
As any fit-pic artist knows, what's in the background is just as important as what you're wearing. I've been eyeing this yellow lamp because the color matches my yellow Ikea chair. But also because it's described as a "tube top."
If you're really looking for likes, though, this Caesar salad chandelier should do the trick.
A Tweet That Made Me Want to Go Outside
A TikTok That Made Me Want to Get a Phone Case
Daily Average Screen Time This Week: 3h2m
Down 12 percent from last week.
Every product is independently selected by our editors. Things you buy through our links may earn us a commission.