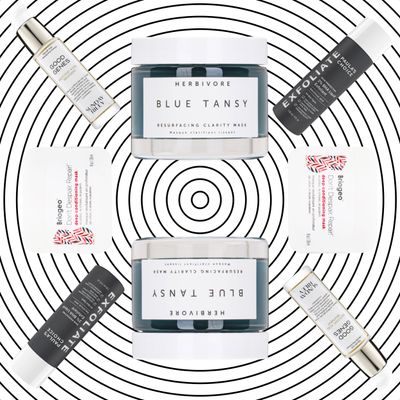 There are 15 days till spring, and that means you have just about two weeks to shed your winter skin. To help you emerge into the sunshine like a glowy, dewy butterfly, Dermstore is holding its annual Beauty Refresh sale. Use the code GLOWUP from now until March 10 to get 20 percent off brands such as Caudalie, Elemis, SLIP, Sunday Riley, and more. Read on for our top-nine picks from the sale.
Believe it or not, it's almost time once again for these magical exfoliating socks. Baby Foot is really the perfect arts-and-crafts project to conduct at home. The gradual foot-shedding will give you something to look forward to for a couple of weeks, and your feet will be softer, smoother, and ready to be seen in public should we all go outside for real this sandal season. —Erica Smith, beauty writer
This is still one of the fastest-working, most affordable liquid cleansers out there. Just one bottle will help declog pore gunk and make your skin clearer and smoother. —Kathleen Hou, beauty director
I'd be remiss as a beauty editor to not mention every single time Sunday Riley's beloved products are on sale. This includes the brand's best-selling exfoliator, Good Genes, which works gently but leaves immediate, noticeable results. —K.H.
This is the hair mask that I recommend to all my friends because it's reasonably priced and really works — it will make your hair look and feel glossier, softer, and smoother. It also does so pretty quickly. I think showers are for cleaning and baths for relaxing, so any mask that works in under ten minutes is ideal for me. —K.H.
Photo: Courtesy of the Vendor
Let's pour one out (or rather, tap one onto the high planes of the cheekbone) for Becca Cosmetics. The company announced earlier this week that it would be closing for good. Celebrate a very good run by picking up one of their velvety highlighters (once known as the best-selling highlighters in America) before they're gone forever. —K.H.
This lash serum regularly gets glowing reviews from outlets, editors, duchesses, and people with good lashes alike, because it actually works (if you stick with it like you do your skin-care routine). Its blend of peptides, green tea, and biotin prevents breakage and brittleness while improving your lashes' flexibility, moisture, and shine so they look nice and fluttery, even without the assistance of mascara wands, extensions, or lash glue. —E.S.
Some of the best masks are tingly, cooling, and blue, and this one is no exception. If the mention of "clay" typically makes you and your skin cringe, this will convert you. Though clay-based, it has a refreshing gel-like consistency full of ingredients like aloe, fruit enzymes, white willow bark, and blue tansy oil that will gently exfoliate and banish blackheads without ever stripping skin or drying it out. —K.H.
I've been hearing people proclaim for months that this is "the best" Vitamin C. If you hate the "meat sweats" smell and sticky feel that accompany almost all Vitamin C products, or the fact that they tend to turn brown and lose their potency almost immediately, you'll love this one. It has a soft, powdery feeling and a very stable formula so you can take your time using it. —K.H.
Photo: Retailer
Still craning your neck, hunching your shoulders, and clenching your jaw? This is the neck moisturizer for you! The potent peptide and plant-based formula moisturizes, smoothes, and tones that often-overlooked area, but the best part is how it all gets there. The built-in rollerball applicator evenly distributes the serum from decolletage all the way to clenched jawline, creating a mini stress-relieving massage that might just be more satisfying than rolling your face with a pretty stone. —E.S.
Every product is independently selected by our editors. Things you buy through our links may earn us a commission.