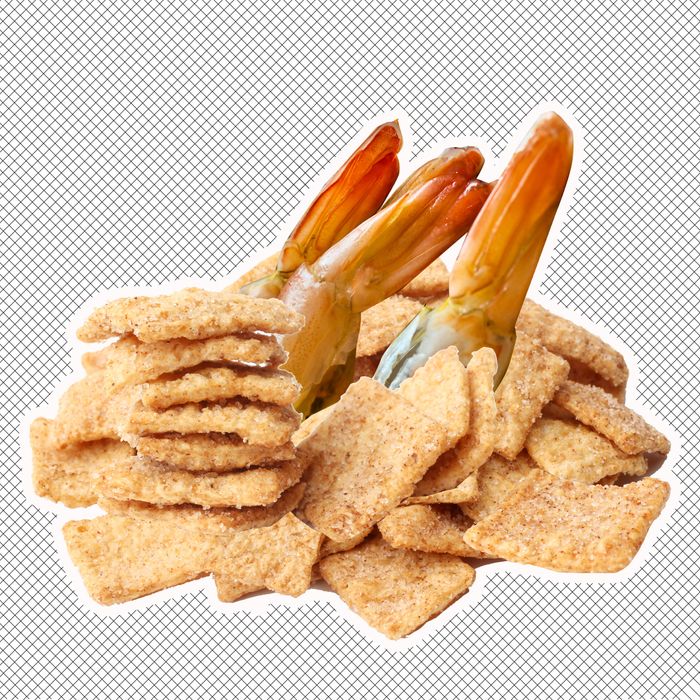 Scandale?!
Photo: Getty Images
Shrimp tails: very distinctive, in form and function, and therefore, very difficult to mistake for anything else. Also: very unlikely to wind up in a cereal-processing plant, one hopes. And yet, a Los Angeles man claims that, earlier this week, he poured himself a bowl of Cinnamon Toast Crunch to find a pair of sugar-coated shrimp tails hiding among the crazy squares. Further, the man, Jensen Karp — podcaster and husband of Boy Meets World's Topanga Lawrence — claims to have identified certain pieces specked with creepy black gunk eerily reminiscent of worms, or (barf) rodent droppings.
Karp has meticulously documented his quest for answers on Twitter, posting snippets from his heated exchange with General Mills — which has apparently requested that he bring the shrimp tails to the police, as evidence — and plans for DNA testing of the candied crustacean bits. Naturally the saga has received a staggering degree of rapt attention, because shrimp tails, in cereal? Disgusting, say more! The tertiary presence of a formerly beloved Boy Meets World character?? Okay, yes! But then things really began to devolve.
First came the accusations that Karp had made the whole thing up.
Mr. Shrimps himself acknowledged this narrative in a tweet on March 23, the day after he shared his personal news with the internet. "Something regarding the stupid 'Did he fake this?' take," he wrote. "There are black items COOKED ONTO the squares and tons of it at the bottom of the bag, in addition to shrimp tails and other SUGAR COATED junk. Also, it's only 'viral' because of their insane response. I would've dropped it."
Personally, I had been too busy absorbing the idea that shrimp might invade a cereal box to pause for the possibility that a person would go through whatever motions are required to sugar shrimp detritus and sneak it into sealed packaging. But now that he mentions it … hmm!
Then, multiple people came forward to accuse Karp of various abuses and dishonesties.
As the post circulated internationally, Karp enjoyed a shining moment of Twitter fame, and granted interviews to media outlets including TMZ and the New York Times. "I'm the new Gorilla Glue Girl, aren't I?" he wondered — perhaps wistfully? — in a tweet. But all the notoriety also raised suspicions among certain of Karp's acquaintances, a number of whom suggest he may be an unreliable narrator.
Multiple women identifying themselves as his ex-romantic partners began sharing their own, remarkably similar, impressions of him. They said that Karp was manipulative, controlling, cruel, and that dating him had adversely impacted their mental health. (Karp did not respond to a request for comment from the Cut.) Former co-workers came forward, too — including writer, comedian, and actor Brittani Nichols, who wrote a lengthy thread alleging that leadership at Karp's rap-battle competition show, Drop the Mic, had to be "talked into hiring a person of color," among other things, and that he was a terrible employer in general.
There have also been allusions to theft of intellectual property from other podcasters, references to alleged "gaslighting," and assertions that Karp generally just lies a lot. On the other hand, there have also been defenses of Karp's character — for example, from Linkin Park guy Mike Shinoda, who called him an "all-around good dude" and praised his talents in comedy and podcasting.
Suspicious pro–Cinnamon Toast Crunch spon-con from Karp's wife was also unearthed.
And then, it is possibly worth considering that the Karp household is aggressively pro-CTC. Karp told the New York Times that it's "the only cereal I eat," his "favorite cereal brand," one he even hypes via his footwear. Meanwhile, his wife, Danielle Fishel (Topanga), is also a noted Cinnamon Toast Crunch devotee: In the below spon-con exhibit, she calls the cereal "one of the best things to come out of the 90's" (seemingly including her own sitcom) in a promotional tweet for CoffeeMate's CTC-flavored creamer. Why bite the hand that feeds you, unless it really is handing you shrimp tails when you expected cereal?
But please note, General Mills has already advised Karp: "While we are still investigating this matter, we can say with confidence that this did not occur at our facility." He intends to DNA test the shrimp and, presumably, share the results with the world — although, to be clear, that would only confirm that we are in fact talking about shrimp tails in a cereal box; it would not tell us much about how they got there.
Why a person would frame the provider of their preferred breakfast, I am not quite sure … however, I am also thinking of a specific episode of the Nickelodeon classic Kenan & Kel, in which our protagonists attempt to sue a tuna company for $10 million over a rogue screw Kel accidentally dropped into the product. "I … put the screw … in the tuna," part of my brain is whispering, insistently, even though it knows that Karp and Fishel are not children doing comedy but adults who would potentially be doing fraud if it turned out that one of them put the shrimp in the cereal, then tried to leverage it for personal gain. In any case, we will update if Karp replies, but the moral of this story remains: Never tweet.