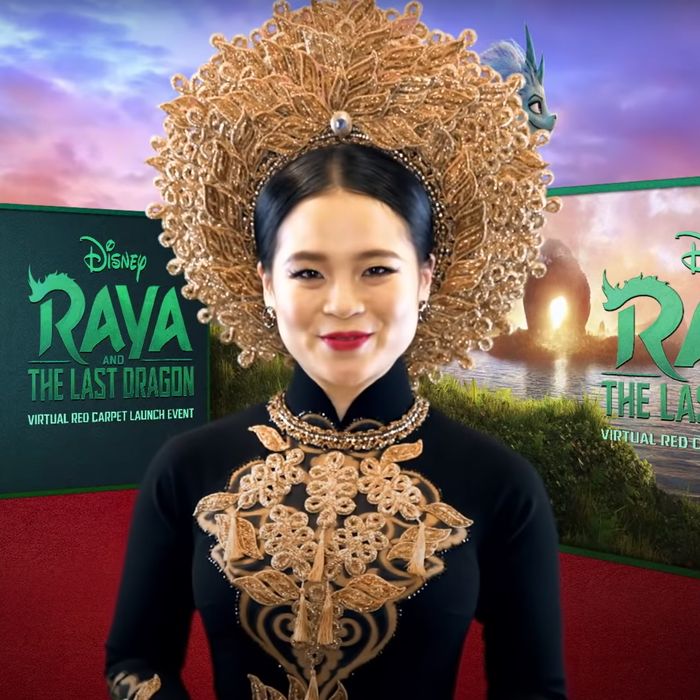 Kelly Marie Tran at the the virtual red carpet event for
Raya and the last Dragon
.
Photo: Disney/Youtube
Last Friday, Disney's first South East Asian princess made her debut in Raya and the Last Dragon. Usually a historic moment like this would include an extravagant premiere, which, of course, can't happen right now. But even with its virtual format, last Thursday's "red carpet" — which featured entirely celebrities of Asian descent, including Awkwafina, Gemma Chan, Sandra Oh, and Benedict Wong — felt like it had just as much cultural significance as the movie itself.
Premieres also usually call for glamorous, over-the-top gowns. The star of the film, Vietnamese American actress Kelly Marie Tran, left her own meaningful impression by honoring people of South East Asian heritage by wearing a traditional Vietnamese dress, or áo dài, and headpiece.
Tran made an effort to work with a designer of Vietnamese descent, Thai Nguyen, who custom-made a black áo dài with intricate gold beaded embroidery and a matching embroidered headpiece. "Pride and excitement don't begin to cover how I feel about this truly special project," Nguyen said in an Instagram post. "Kelly and I share passion for what we do and a strong love for Vietnamese culture. We also both understand the challenges of being underrepresented minorities in competitive spaces. It is hard to put into words how much it means to me that we were able to join those emotions and experiences, turn it into an iconic áo dài, and share our heritage with the world."
People of South East Asian descent on Twitter chimed in, recognizing the importance of Tran on the red carpet in such a dress.
For Asian Americans in general, it's a moment to celebrate during a particularly difficult time when anti-Asian racism is on the rise. When so many headlines have been dominated by trauma, this is a reminder to make room for joy.