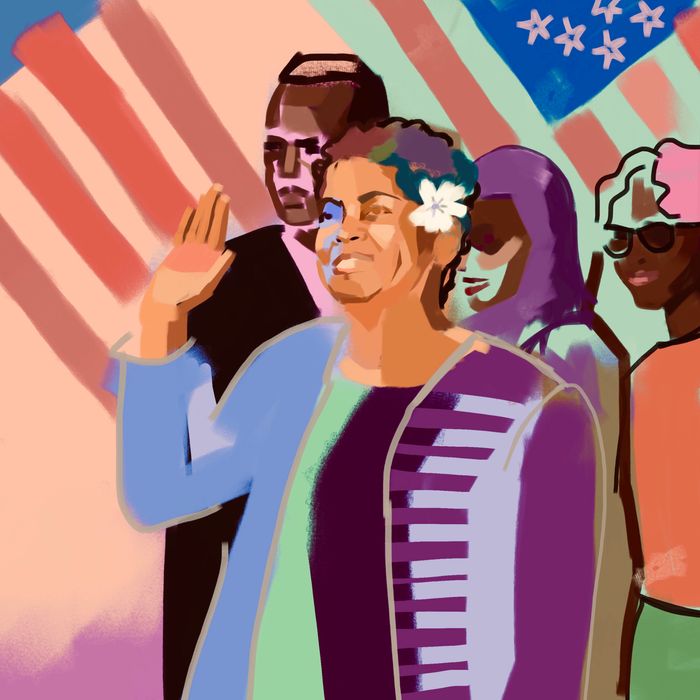 Illustration: by Paco May
"Second Acts" is a series about making big changes later in life.
In early 2014, I was approached by one of my former high-school math teachers, Cecil Perry. He asked me to enter the primary for the position of county commissioner at large. At first I told him no. He pointed out that he had been the only African American serving on that board of seven men since forever. I live in a small town in North Carolina. I came up through segregation and Jim Crow laws. We're just really getting our feet wet as far as African Americans being in politics here locally. So he told me: We have to at least try for one more person to represent our community, and he thought I could win. I think that in addition to having confidence that I would do a good job as commissioner, he felt that a large, diverse group of people in the community had gotten to know me as well.
I consulted with my husband and other family members, who told me, "If anybody could do it, you can." So I called Mr. Perry back and I told him I would give it a try. It wasn't anything I aspired to do at any point in my life. But I listened to the people who I trusted, who had confidence in my ability to serve the people of our area. So at age 64, I ended up becoming the first African American woman to be elected to the Pasquotank County Board of Commissioners. I was also the first African American, man or woman, to be elected in a countywide election since Reconstruction. [Mr. Perry was elected to the board in a district-wide election.]
For three years, I was the only woman serving with six men. I finally had a seat at the table where I was not just designated as a notetaker. I actually participated in the problem-solving — and I received the utmost respect from the men I served with. Winning and success have a way of emboldening an individual, so when I was approached to run for mayor of Elizabeth City in 2017, I felt that it was doable — more challenging, but doable. I won that election with 67 percent of the vote. In 2019, I ran unopposed and easily won a second term.
I never thought of my age as being a factor in winning or losing. Most people I've seen in political positions were older. It's just been in recent years that I see an influx of young people and women entering the political arena. So my basic concern was not age, but rather: Do I have the time, do I have the stamina? Public service is a demanding job with a minimum amount of "thank you"s for all you do. But I don't let that deter me from helping people, because it's always been a rewarding experience. Service to people is what I've been doing my entire career.
When I was growing up, being a teacher was the only hope for anyone like me. But early on, I was encouraged by my grandmother, who was my Sunday school teacher and who told me, "You can do anything you want, you can be anybody you want to be, but education is key." I went to all segregated schools until I went to college. My elementary-school teachers also told us, "You can do what anyone else has done. You simply have to work hard, and you may have to work harder, but you are capable."
Two of my elementary teachers are still living here now. Ms. Virginia Perry Jones, who is in her mid-90s, taught me the art of public speaking. Ms. Rubina Williams, who was also a teacher at my elementary school, was a real great model for us. She's still living in her mid-90s here. I just want to give them a shout-out, because I'm standing on their shoulders.
When I landed my job at the high school, there were seven Black teachers, and I was one of them. I felt like if I landed that job, and got teacher of the year, I could do what I put my mind to. I had a couple things against me — that I was Black and that I was a woman. So I pressed forward harder.
Being a teacher, I had to be a problem-solver and have great classroom management skills. And when I say great, I had to be great, because I couldn't just be average. I wanted my students to have confidence in me, to trust me, because when I started teaching them, a lot of them said, "I never could do math." And I'd say, "Never is an awful long time."
I tried to start in their comfort zone and build on that. My students liked me, and a lot of them are still here in town. When I went into politics and they saw it was Ms. Parker running, a lot of them told me, "You've got our vote." I had taught a lot of the people that I now was going to serve in a different capacity. One of the reasons I think people asked me to run was because they thought I could bring some civility to the council. They were always bickering. I use my teaching skills to work with council members. I don't have to raise my voice, because I didn't do it in my classroom.
This is just my second term, and we do two-year terms. I don't know if I'm gonna do a third term. I want to write a book, and that takes time. And I don't think anybody should stay in a position forever — I've always felt that way. There are other people who can also do a good job.
Women have a tendency to believe that our lives are over by the time we reach 45 or 50, but I like to think I've proven that that is not the case. Because I opened a new door, and I started learning as I went, and standing up to people who weren't always easy to deal with.