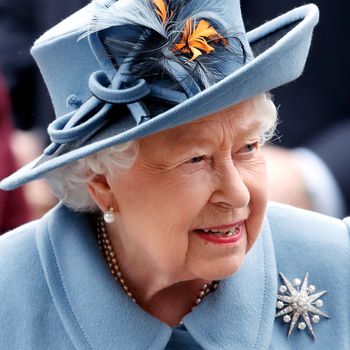 The Queen.
Photo: Getty Images
Meghan Markle and Prince Harry's widely viewed interview with Oprah, which aired Sunday night, contained a number of damning allegations against the palace.
In the interview, Meghan shared that, before her son Archie was born, an unnamed member of the royal family expressed "concerns about how dark [Archie's] skin would be." She also spoke candidly about the toll that the British press's relentless — and often vicious and racist — coverage of her took on her mental health, and called out the palace's refusal to protect her. She revealed that she struggled with thoughts of suicide, and said that when she told a senior palace official that she "needed to go somewhere for help," she was told she couldn't, because it would look bad for the institution.
Two days after the interview aired, the queen finally issued a response, which is striking in its brevity — and, notably, does not include an apology.
"The whole family is saddened to learn the full extent of how challenging the last few years have been for Harry and Meghan," the statement reads.
"The issues raised, particularly those of race, are concerning. While some recollections may vary, they are taken very seriously and will be addressed by the family privately."
"Harry, Meghan, and Archie will always be much loved family members," the statement concludes.
The curt and evasive response isn't surprising, but it is disappointing. It appears the palace doesn't plan to break its silence on racism — or reexamine whom it chooses to protect — anytime soon.