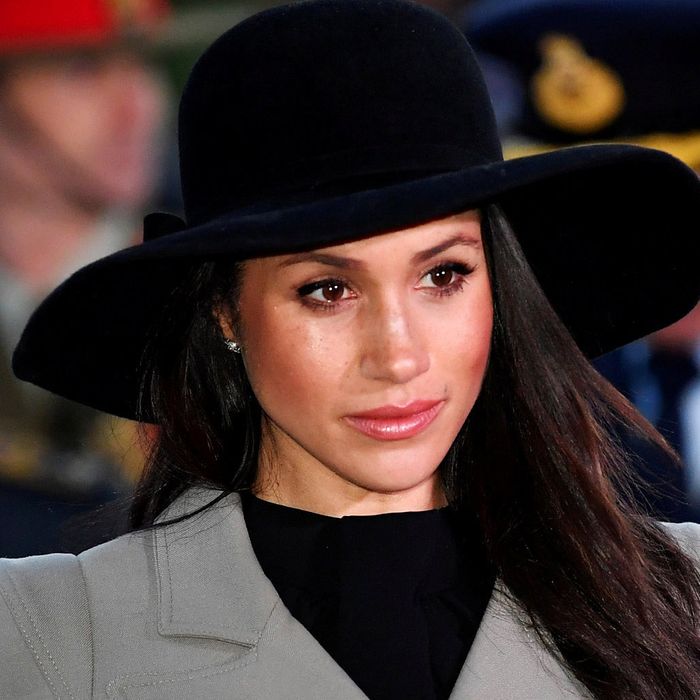 Meghan Markle.
Photo: Getty Images
Two days after Meghan Markle and Prince Harry's tell-all interview with Oprah — the one in which Meghan recalled experiencing racism within the royal family and spoke of its failure to protect her from harassment so severe she "just didn't want to be alive anymore" — the queen issued a tepid statement of non-apology. She said was "saddened" to hear "how challenging" life in the royal family proved for her grandson and his wife but insisted that "issues … of race" would be "addressed by the family privately." So privately, it seems, that Meghan herself may not have been looped in?
That's according to Gayle King, who said on CBS This Morning that although Harry had commenced (less-than-productive) conversations with Prince William and their father, Prince Charles, "No one in the royal family has talked to Meghan yet."
"I think what is upsetting to them is that the Palace keeps saying they want to work it out privately, but yet they release these false stories … that are very disparaging against Meghan still," King said. "I think it's frustrating to them to see that it's a racial conversation about the royal family when all they wanted all along was for the royals to intervene and stop the unfair, inaccurate, false stories that definitely have a racial slant. And until you can acknowledge that, I think it's going to be hard to move forward."
In terms of recent news coverage, King is likely referring to a report that surfaced days before the Oprah interview aired, accusing Meghan of "bullying" palace aides. A spokesperson for her and Harry denounced the allegations as part of "a calculated smear campaign based on misleading and harmful misinformation," but this week, the Palace hired an outside law firm to investigate. Notably, the Palace has not taken any such steps with regard to the also-very-serious allegations of child sexual abuse raised against Prince Andrew; instead, it has merely denied the claims as "false and without any foundation," and eased him out of the public eye as much as possible.
Meanwhile, Meghan and Harry "want to move forward" with reconciliation efforts, King said, "because at the end of the day, it's Harry's family."
"The family has to acknowledge that there are issues, and right now, no one is acknowledging, Houston we have a problem here!" she said. "That's really all they want," King added. "They want a conversation."