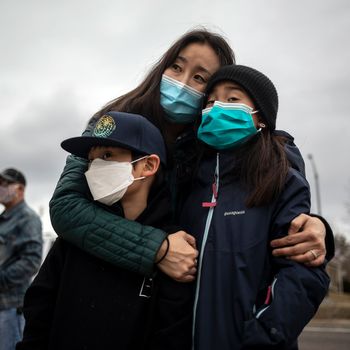 Photo: Chet Strange/Getty Images
The mass shooting that took place at a grocery store in Boulder, Colorado, on Monday, in which a gunman murdered ten people, is reportedly America's seventh mass shooting in seven days.
A "mass shooting" is typically defined as a shooting in which four or more people are killed or wounded, excluding the person who commits it. The seven mass shootings in the last week include the one in Atlanta last Tuesday, in which eight people were shot to death at three massage parlors, including six women of Asian descent.
They also include a drive-by shooting at a vigil in Stockton, California (5 wounded); a shooting in Portland (4 wounded); a shooting at a nightclub in Houston (5 wounded); a shooting at a nightclub in Dallas (8 people wounded, 1 dead); and a shooting at an "illegal party" in Philadelphia (5 wounded, 1 dead).
Seven shootings in seven days is a horrifyingly symmetrical tally. It reflects a disturbing fact: that as the United States opens up and returns to normal, part of that normal is these mass acts of violence. Across the country, in completely different contexts, at different times of day, with different types of assailants and different weapons, different people are dying from and have been wounded by guns. With more places to gather, more people are being shot en masse.
Watching the numbers rise, I experience another eerie kind of horror: the difficulty in continuing to feel the amount of hair-tearing outrage that "seven shootings in seven days" deserves. I'm a 30-year-old American woman who has been reacting to mass shootings since the first one I can remember in the news, in 2003; that's 18 years of reacting to mass shootings, over half my life. The same coverage ensues, the same canned responses from politicians echo, such that even the people rightly skewering how cynical they are sound canned themselves. It feels nearly impossible to keep reacting under the weight of every incident when you know there will just be another one soon.