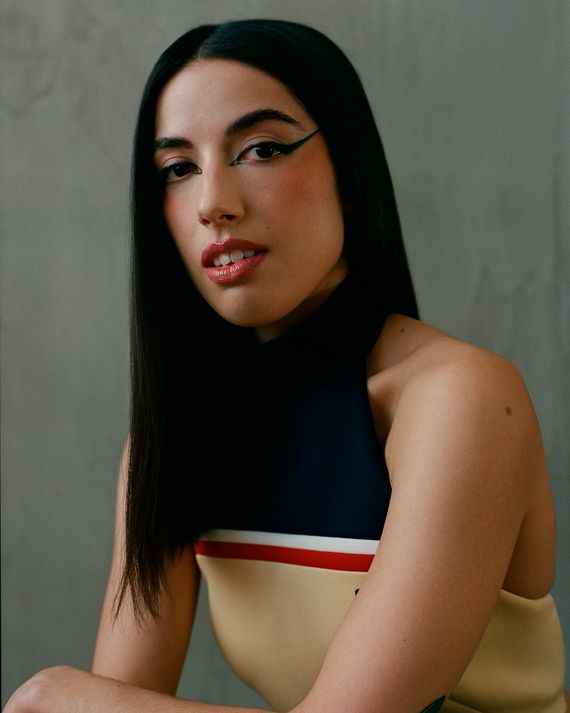 A bralette made out of handheld electric fans. Board shorts made of old candy packaging. A sweatshirt made out of a whole bunch of Calvin Klein sports bras. Designer Nicole McLaughlin believes in sustainability, and she's doing it in a cheekier way than just about anyone.
When she isn't busy in the design studio, the New York–based designer spends her time developing her nonprofit. Her organization works to connect large companies with design students to ensure their leftover resources can be put to use. She hopes to share the importance of sustainability through educational curriculums that teach design as a mode through which young creatives can change the world.
The Cut spoke with Nicole McLaughlin about her nonprofit, working with new materials, and her love for Dance Gavin Dance albums.
What does "cool" mean to you?
Something that has a lingering effect.
What three creative people have had the most impact on you and why? Eileen Fisher, because of her dedication to sustainability. Rei Kawakubo and Margiela for pushing the boundaries within fashion.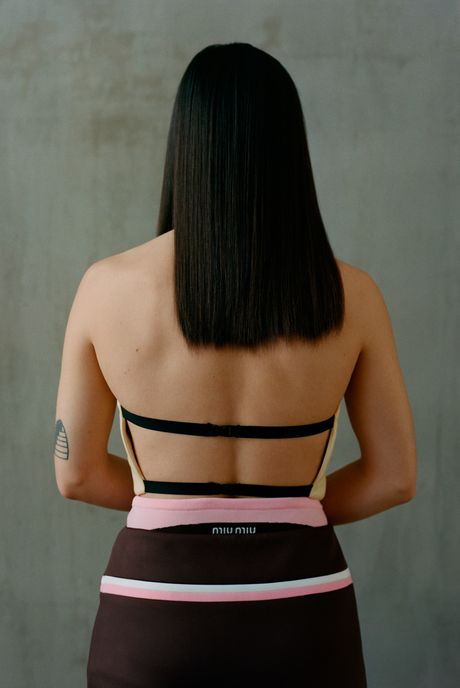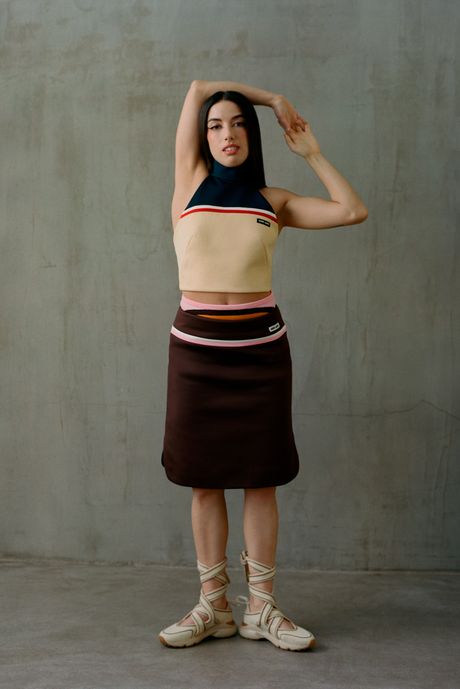 What three fictional characters do you relate to most?
Kevin McCallister, Jimmy Neutron, and Buttercup from The Powerpuff Girls.
What have you been listening to lately?
I've had Dance Gavin Dance albums on repeat. Helps keep the energy levels up.
What kind of animal would you be and why?
A raccoon for their scavenging skills. They find everything they need in the trash.
What superpower would you have and why?
I'd love to clone myself like Multiple Man.
If you could master any skill (that isn't related to your current job), what would it be and why?
Climbing, but Free Solo levels.
What are you doing for fun right now?
Sleeping!
Has the way you dress changed during quarantine? If so, what are you wearing now?
My perception around comfort has shifted. Things I used to consider comfortable, like leggings, don't really fit into that criteria anymore.
Are there any causes or organizations you are supporting?
Climbers of Color, National Black Deaf Advocates, Sunrise Movement, Okra Project, and Slow Factory.
What are your favorite local businesses to support?
Cup of Brooklyn, Sey Coffee, Lucy's, and Klom Klorm.
What goals are you working toward at the moment?
Pushing myself to work with less malleable materials.
What are you excited about right now?
Working toward setting up my nonprofit and finding ways to support students and young designers.
Do you have a self-care routine? If so, what does that look like?
Anything you can do to make yourself feel better is self-care. Whether it's a shower, a face mask, or a bag of white-cheddar popcorn, it's all included in the routine. However, the one thing I do indulge in daily is my skin-care regime.
What piece of advice has had the biggest impact on you and why?
I was on a panel once with Céline Semaan from Slow Factory, and she said something that I should have written down. She said something along the lines of, "There's no way to achieve perfection in sustainability. Every effort is a good effort. As long as you're taking steps and trying to make the best decisions, it's the right step forward."
What is one item that has made your life better?
Avex 40 oz stainless auto-seal water bottle. It keeps me hydrated — essential to my routine.