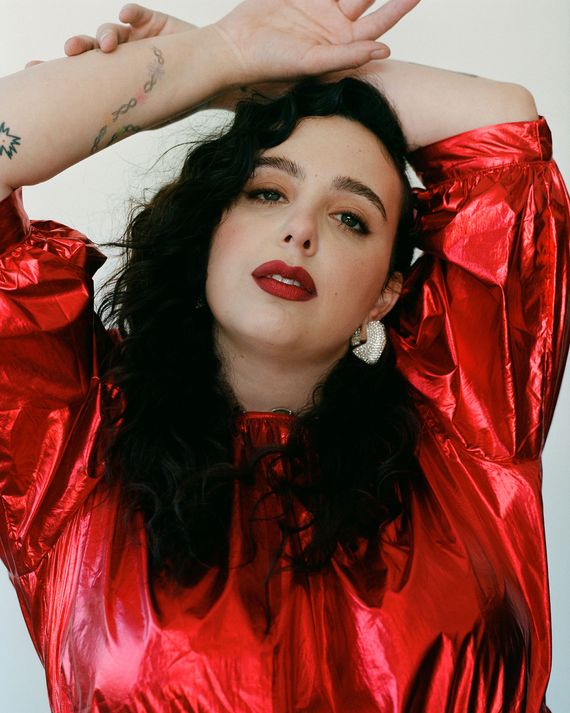 Wray
dress.
Ambush
jewelry.
Photo: Lelanie Foster
"I've always loved fashion, but it's made me feel demoralized, unwanted, and sometimes bored," says Emma Zack, founder of the size-inclusive e-commerce vintage shop Berriez. Tired of finding that the brands she loved didn't carry clothes in her size, Zack decided to turn her frustration into a business. "I want Berriez help people feel they have a place in the sustainable fashion world and beyond," she says.
Zack grew up in Boston, where she watched her mother launch an elder-care business that she still runs today. She promised herself that someday, she'd bring the same level of dedication and intention to her own entrepreneurial endeavors. Although she never met her fashion-loving grandmother, she was an inspiration as well. Zack would dress up in her grandmother's clothes from the '60s and feel the confidence her grandmother had during her lifetime.
When she's not working on her business or styling photoshoots, Zack enjoys singing jazz, playing bass guitar, and cuddling with her cat, Lula. The Cut spoke with her about Billie Holiday, Mrs. Frizzle from The Magic School Bus, and her Rollo label printer.
What does cool mean to you? To be cool means to be genuine. It means trying to always stay true to who you are. It means to treat others the way you want to be treated. To be cool used to mean being cynical or jaded, but now, to be cool means being authentic and unapologetically passionate about what you love.
This quote from Yozart's Cut interview really resonated with me: "Warm is the new cool."
What three creative people have had the most impact on you and why? My friends. They inspire and push me to see beyond what I see in front of me. They all are tremendously creative in their own ways, and I've learned from them that creativity is a process. Without my friends, Berriez wouldn't be Berriez (and Emma wouldn't be Emma!).
Designer Michael Simon, the inventor of the "ugly Christmas sweater," for his light-hearted, humorous, and artful approach to fashion.
Billie Holiday because she sang with passion, frustration, and authenticity, even when people told her she wasn't good enough to be onstage. She used song as a means of expressing emotion and establishing her presence. She reminds me that whenever I don't feel like talking, I can always sing a jazz standard.
What three fictional characters do you relate to most?
Ms. Frizzle because her closet is full of fun, novelty prints. It wouldn't be an adventure on The Magic School Bus if Ms. Frizzle dressed in dull clothing. Garfield because he's always tired, sarcastic, and loves lasagna. SpongeBob because he has a big heart, loves his friends, and can't sit still.
What have you been listening to lately?
Phony Ppl, Nina Simone, Jamiroquai, Brittany Howard, Bill Evans, and Kamasi Washington.
What kind of animal would you be and why?
A cow. They appear to live a chill lifestyle — looking beautiful and majestic, eating grass, and hanging out in fields all day with their friends. What more could one want out of life?
What superpower would you have and why?
Teleportation. I would visit my pals without having to take a train, plane, or automobile, and eat food from all over the world.
If you could master any skill (that isn't related to your current job), what would it be and why?
I would love to learn how to cook. I don't have the patience or palette to master cooking, but I love food and would like to know how to make it without burning it. I recently tried to make fish and it was so overcooked it resembled an orthotics insert for my shoe.
What are you doing for fun right now?
The fact that I had to think long and hard about the answer to this question shows that I need to have more fun. I suppose styling photoshoots — that are unrelated to Berriez — is my idea of fun at the moment.
Has how you dressed changed during quarantine? If so, what are you wearing now?
I refuse to wear anything that isn't comfortable. Pre-quarantine, I'd wear a corset over a button down, or *gasp* denim without elastane. Nowadays, for the most part, I need my pants to have an elastic waistband, my shirts to be at least one size too big, and my shoes to require minimal effort to put on my feet. Despite the drab picture of an outfit I just painted for you, I like to keep my looks fun with novelty print shirts, colorful ribbed pants, and quirky sweaters.
What are your favorite local businesses to support?
Marché Rue Dix, Doctor's Cave Café, La Ñapa, Playground Coffee Shop, and Saraghina — to name a few!
What goals are you working towards at the moment?
Expanding Berriez into an online boutique that carries extended sizes from independent designers — and keeping myself organized throughout that process. I want fashion, especially the cool shit, to be accessible to everyone. I want to wear the brands, as a size 16, that I am excited to wear. If I want to wear these brands, there must be others who do, too!
What are you excited about right now?
Berriez is dropping its first product: hand-felted sweaters à la Michael Simon! I'm also excited about having my first studio space, and the opportunity to (hopefully) create some sort of work-life balance.
Do you have a self-care routine? If so, what does that look like?
I moisturize my skin daily, abandon my phone screen whenever possible, watch mindless television, and call my mom. Truthfully, I am working to build a better self-care routine. I want to walk more. I want to write more. I want to make music again. And I want to eat less dairy (any lactose-intolerant readers out there?!). Self-care is so many things, it's all about making time for it.
What piece of advice has had the biggest impact on you and why?
Nina Simone once said, "You use up everything you got trying to give everyone what they want." When I first heard that quote years ago, I wrote it down on a Post-it note and stuck it in my wallet to remind myself that it can be exhausting trying to please everyone all the time. Don't let the fear of not pleasing everyone hold you back from whatever it is you want to be doing.
What is one item that has made your life better?
My Rollo label printer. I can't believe I was using masking tape to stick labels onto packages for nearly two years of running an e-commerce business. Ha!