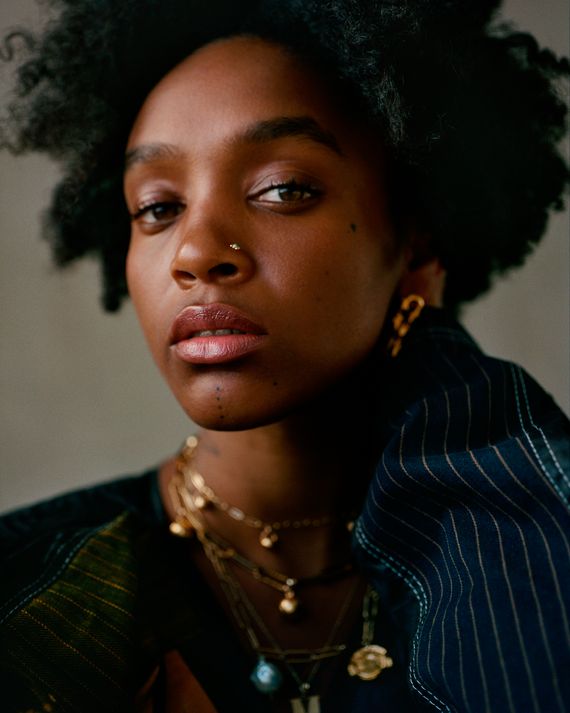 No one throws a better backyard luncheon than Mimi Quiquine. The French-British makeup artist invites a crowd of Brooklyn creatives and serves vegan dishes loaded with flavor. But although her cooking is the way to many people's hearts, it's her talent as a makeup artist has led her to widespread recognition. In 2020, Refinery29 named her one of "The Most Innovative Makeup Artists" in the beauty industry.
Quiquine has mastered the art of natural-looking skin, and her work has been featured in publications like Self Service, Garage, and DNA. In addition to being a full-time artist, she is also the founder of a natural skin-care company called Maison Quiquine. Just like her backyard feasts, her skin-care will leave you glowing and loving the process along the way. The Cut spoke with her about her pit bulls, Nina Simone, and linguistics.
What does cool mean to you?
Not caring about what anyone thinks of you.
What three creative people have had the most impact on you and why? My mother, first and foremost. She taught me that you can ooze creativity in anything you do.
David Lynch, because the art he creates makes me feel all kinds of crazy yet super-inspired at the same time. If an artist can make you feel all kinds of emotions and still bring you in and keep you engaged, that's incredible. He reminds me to create for myself and not just to "please" or "perform" for the audience.
Mac Miller. I started listening to his music over a decade ago and, looking back, I feel like I was on a personal journey with him. I truly admired his ability to evolve and explore. The music he made when I was 16 is completely different from his final album, but both are incredible in their own way. It helped me to not be so rigid in my approach to life. Embrace evolution and welcome it, but at the same time being proud of moments in your past.
What have you been listening to lately?
A lot of Nina Simone. I grew up listening to her but recently rediscovered her importance in my life.
What kind of animal would you be and why?
I would be my oldest pit bull, Coco. I'm originally a cat person, and my girl Coco has a grace about her that reminds me of a feline. She is so tenacious, cheeky, and beautiful. She reminds me every day to live in the moment, not be afraid, and constantly stretch.
What superpower would you have and why?
Definitely teleportation. I constantly ask the universe to give me this gift. I love being in different places, but I've realized how exhausting the process of traveling is, so if I could teleport that would be amazing.
If you could master any skill (that isn't related to your current job), what would it be and why?
I would master languages. I speak English and French, and German lies dormant. Currently learning Spanish. I think linguistics is powerful. It opens you up to worlds that you would normally not be a part of. Being able to float between different worlds is such an incredible skill and one that I'm going out of my way to master.
What are you doing for fun right now?
I grew up training as a dancer and stopped in my teens. I'm getting back into that and having a lot of fun being more expressive with my body.
Has the way you dress changed during quarantine? If so, what are you wearing now?
Haha, I'm wearing a lot less clothes. Spending more time in the nude, laying around my house and garden, soaking up the sun and fresh air.
What goals are you working towards at the moment?
Achieving complete happiness and living in the moment.
What are you excited about right now? LIFE.
Do you have a self-care routine? If so, what does that look like?
I'm the founder of a skin-care company, Maison Quiquine, and I think it's almost expected that I have a strict skin-care routine, but I don't. There are days I do masks and Gua Sha religiously, and there are days that I just about wash my face. I do what feels right that day. I try not to be so strict — that way I can continue to enjoy the process. I will say, though, that chanting every day is key to my self-care routine. It allows me to approach the day with love for myself and others.
What piece of advice has had the biggest impact on you and why?
I'm going to butcher this quote that a friend shared with me, but in a nutshell, it's about how everyone has fear — it's just a matter of whether you allow the fear to engulf you and hinder your life, or whether you walk straight through the fear, feel it, and do what terrifies you anyway. I think this is so simple, yet so powerful. So many of us allow ourselves to compromise on our lives because of fear, and it's a true tragedy. In my mind, if I don't live my life to the fullest, am I truly alive? I think about this often and it gives me strength to live the life I daydream about, to one day look back on my life with no regret, just incredible memories.
What is one item that has made your life better?
My phone. I say this because with this item I'm able to respond to these interview questions, FaceTime my mother from the other side of the world, book flights to undiscovered places, look at photos from decades ago, send invoices, learn languages, create films, watch interviews of my favorite artists, listening to an innumerable amount of music … I could go on.