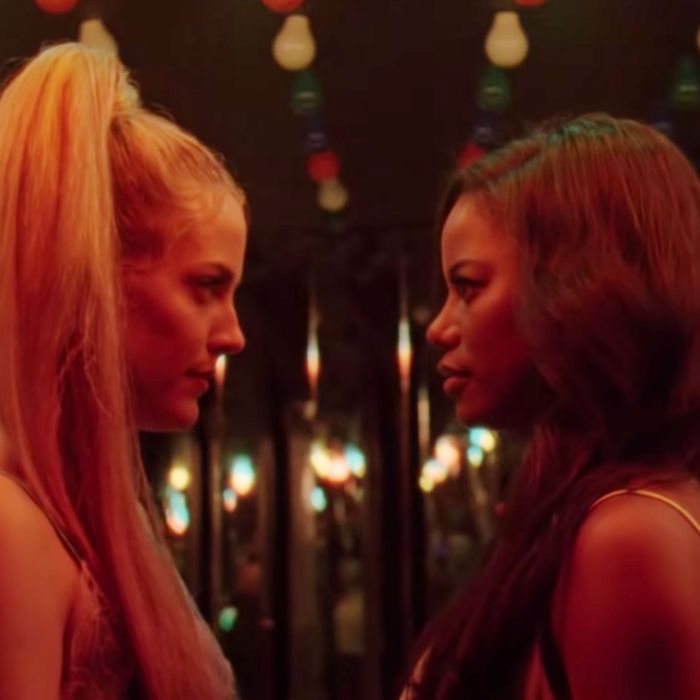 Riley Keough and Taylour Paige.
Photo: A24
After tossing us a short teaser last fall, A24 has finally dropped the first official trailer for the much-anticipated stripper drama Zola, which looks as though it'll be as dizzyingly bonkers as the epic 148-tweet thread on which it is based. (Yes, that enrapturing tale that nearly brought down the platform in 2015.) Come for the drama between stars Taylour Paige and Riley Keough as they gaze penetratingly at each other and share the pole, but what will wedge deep into your brain is Cousin Greg (a.k.a. Nicholas Braun) — so towering and bumbling and yet still so sexy — saying, "We making schmoney."
Although we may not be swapping sweat with strangers at clubs by Zola's release date of June 30, the Sundance breakout sensation will have you dreaming of the day when you can yet again sow (a reasonable amount) of chaos with the girls. Directed by Janicza Bravo, and co-written by Slave Play writer Jeremy O. Harris and Bravo, the movie tells the story of a Detroit waitress named Zola (played by Paige) who finds herself convinced by one of her customers, Stefani (played by Keough), to head down to Florida for a weekend of dancing and hell-raising. Naturally, the trip descends into chaos. To quote A24's synopsis: "What at first seems like a glamorous trip full of 'hoeism' rapidly transforms into a 48-hour journey involving a nameless pimp, an idiot boyfriend, some Tampa gangsters, and other unexpected adventures in this wild, see-it-to-believe-it tale." (The aforementioned "idiot boyfriend" is, yes, Nicholas Braun, and "nameless pimp" is Euphoria's Colman Domingo.)
Also: a remarkable assortment of hoops of all sizes in here! All around, a rich source of post-pandemic lifestyle-and-fashion inspiration. My strawberry-shaped pasties are ready.