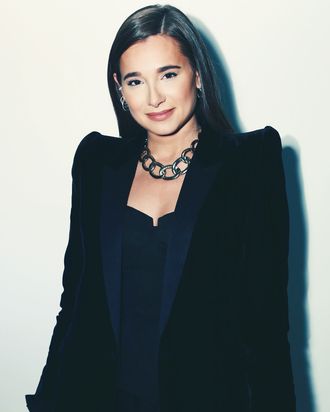 Photo: Anna Webber/Getty Images for Lindt
Last week, the 28-year-old influencer Danielle Bernstein, better known by the moniker WeWoreWhat, brought her fashion-and-lifestyle brand over to TikTok. Let's just say it didn't go too well. Although this marked the official debut of the WeWoreWhat TikTok account, her name and story had been circling the "For You" page for months.
The Long Island native got her start in the industry over ten years ago with her hugely popular New York City street-style blog. She has since amassed an Instagram following of 2.6 million, launched her own clothing line, and authored a New York Times best seller. On TikTok, however, she's mostly known as the influencer who steals design ideas from small creators.
Prior to her arrival on the app, numerous TikToks went viral outlining allegations from small boutiques and labels claiming WeWoreWhat had blatantly copied their designs. Although these gained traction on the Gen-Z–flooded app, Bernstein's controversies began way before the dawn of TikTok. In 2018, she came under fire when the popular Instagram account Diet Prada called out her jewelry line with LuLu DK, saying she had copied the designs from various other brands — most notably, one particular pendant necklace from the jewelry brand Foundrae. Despite Bernstein's arguments that the pendant design was in no way influenced by Foundrae, Nordstrom, the retailer for the LuLu DK x WeWoreWhat collaboration, stated that the piece would be removed from the collection.
Bernstein found herself in hot water again last July after she was accused of copying a mask-and-chain design from the women-owned small business Second Wind. Yet again, Diet Prada raised the issue in an Instagram post, claiming Bernstein had asked for free masks from the designer in question. A few days later, Diet Prada claimed, Bernstein reached out to the designer again to say she would also be releasing masks but not to worry as they were totally different.
Just this past October, one of the copyright allegations turned into a full-fledged lawsuit when Bernstein sued the lingerie brand the Great Eros. The brand claimed she had copied its tissue-paper design for her collection of wallpaper, and Bernstein sued in an attempt to prove her innocence. This led the Great Eros to file a countersuit claiming she had stolen the designs from them. There's no update on this mess of lawsuits, but it has further tarnished Bernstein's reputation.
Bernstein also garnered backlash for mimicking style tips from smaller influencers without giving proper credit as well as for promoting travel during the pandemic (she eventually did contract the coronavirus in the Hamptons).
Suffice it to say, Bernstein doesn't have the best reputation on TikTok. Seemingly undeterred, though, she had been teasing her arrival on the app and finally made an appearance with a 60-second introduction video last week. It didn't take long for users to fill her comments with messages such as "Not We Stole What?" and "She's not welcome here." Duet videos of her introduction also began to circulate on TikTok, with users highlighting the various allegations and lawsuits against her.
The influencer responded with a TikTok of herself lip-syncing to a popular sound of Cardi B giggling and saying, "I want to thank my haters because they be downloading my stuff so they can hear it and talk crap about it, but it benefits me!" Bernstein (or someone on her team) quickly removed it. Shortly after, she turned off all comments on her videos.
While the comments remain hidden, TikTok has continued to find ways to express displeasure with the influencer's presence on the app. Her arrival has already birthed a new trend: Small designers are now pretending to hide their designs so Bernstein can't find them.