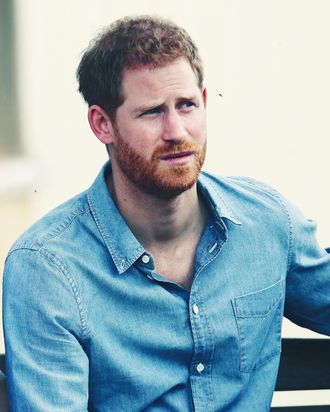 Photo: Chris Jackson/Getty Images
Yesterday, we reported that Prince Harry had turned to Silicon Valley for his "latest foray into business," accepting the role of chief impact officer at a start-up called BetterUp, a "unicorn employee-coaching and mental-health" firm.
But before we had a chance to get any sense of what in God's name that means, it was announced early this morning that Harry has taken on yet another role, this one even more vaguely elite-sounding: "commissioner."
The gig is with the Aspen Institute's Commission on Information Disorder. Harry and about 20 other important people, including Katie Couric, will embark on "a six-month study on the state of American misinformation and disinformation," writes CNN.
That Harry is interested in what he has described as an "avalanche of misinformation" is unsurprising, given that he and Meghan Markle continue to deal with exactly that when it comes to their own lives. It makes sense, too, that he would join a company focused on mental health, an issue he's long expressed interest in.
It remains to be seen what exactly it is he will do, though surely it's important. Indeed, as if the duties and responsibilities of a prince weren't vague enough, he's gone and collected two of the most vague and fancy-sounding corporate titles out there. Now, all he needs is something with the word "strategy" in it to complete the professional festoonery.
But, hey, since marrying Meghan, he's moved out of his mom's house, gotten a job, and is friendly with Oprah Winfrey. So who are we to judge?