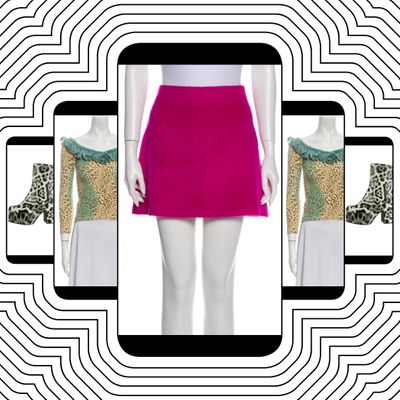 Photo-Illustration: by The Cut; Photos: The RealReal
Now more than ever, people are experiencing fashion through their phones. In "Screen Time," fashion writer Emilia Petrarca shares all the screenshots, double taps, and swipes she made this week.
Every so often, a TikTok comes along that physically debilitates me. Sometimes it's because I'm watching someone actually hurt themselves and wincing in sympathy. But other times, it's a more of an overwhelming, full-body gut punch — one that's triggered by a deep sense of emotional recognition. It could be embarrassment, fear, or stress. Or it could be positive: excitement, pride, joy. Watching the video below, in which a kid shows off his back-to-school outfit, made me feel all of the above.
"So I just went to the store; got this Kakashi shirt," says a very proud @jayden_the_weeb1, who I'm going to assume is in sixth grade, maybe? (Yes, I am too old to be using this app.) Kakashi, I later learned, is the name of a ninja character in the Naruto manga and anime series. "These jeans, I already had," he says, lifting up each of his legs — one at a time — so that we can see them on-camera for the combined effect. "This is what I'm wearing to school tomorrow because we're finally going back," he explains somewhat breathlessly.
The whole thing is nerve-racking to watch but also thrilling. Jayden is clearly very into his outfit, despite what mean commenters may say, and he wants people to see it. After a year of taking fit pics in our bedrooms, this is how we've learned to communicate personal style. "So yeah, it looks really nice," he says with polite satisfaction before picking up his camera and pointing it at his gray Jordan sneakers — the cherry on top. "I can't wait to go back to school," he concludes.
My heart breaks for Jayden that he hasn't been able to be in school this whole time, presumably because of the pandemic. Obviously, I'm not a kid, and my experience of the last year has been very different from his. But still, I can relate to his first-day jitters. Watching this video, I realized that the prolonged sense of anxiety and excitement I feel about reentering society is a lot like the run-up to the first day back at school, only stretched out over a much longer, indefinite period of time.
Of course, it won't happen all at once, but in my mind, I'm imagining a sort of "first day back," whether it be at the office or at a gathering with a group of friends. To groom myself for this imaginary moment, I'll buy new clothes, cut my hair, and even practice social interactions in the mirror. One friend told me he's doing more push-ups.
It might sounds ridiculous — like I'm acting the same way as I did as a vulnerable, awkward sixth-grader — but in a way, we're all relearning what it's like to exist in the world again. I'm even asking myself similar existential questions: Who do I want to be? How does that translate to my personal style? And most importantly: How do I make myself look hot so that boys will like me??
Every time the seasons change, I feel an acute need for a makeover. Our shopping lists can reveal a lot about what's going on in our subconscious, and right now, it's pretty clear what we're longing for. Both Urban Outfitters and Anthropologie are reportedly seeing a bump in sales of going-out fashion, and the CEO of the Gap has said she expects to see a "peacocking effect."
When I asked people on Instagram this week what they were searching for on The RealReal for spring, the answers I got seemed similarly concerned with looking good for social reentry: high heels, corsets, miniskirts, and "slutty going-out tops" — an aesthetic one person described as "vaxx summer hookerwear," which I support.
I also bought a miniskirt on The RealReal this week and set a search for Tom Ford-era Gucci. Multiple people told me they were looking for early-2000s tops from the brand Blumarine, perhaps inspired by a recent Haim sisters video in which they talking about how they wish they could have worn the brand to their Bat Mitzvahs. So some people aren't just tapping into their first-day-of-school impulses, they're also buying the same clothes that made them feel good during that their actual school years.
And I'm not just talking about clothes that make you look hot. After a year of sweatpants and pajamas, it follows that a lot of people want to dress with the abandon of a sixth-grader. They're not concerned with what's trendy or tasteful. Instead, they want to wear what's most colorful and fun and expressive of their personality — their version of a Kakashi T-shirt.
On the flip slide, I like this back-to-school analogy because it, at least for me, also acknowledges the queasy feelings I have in the pit of my stomach about presenting myself to the world again. The narrative of "post-pandemic life," specifically as it relates to style, seems to largely ignore everything we've been through, as though we're all going to put rainbow costumes and move on. When I think about the way I used to dress for the first day at school, my choices reflected a sense of optimism but also growing pains. In presenting a new version of myself, I was also recognizing the loss of an old one.
When I looked in my closet the other day, I saw a lot of black. Like most New Yorkers, I've always had the color in heavy rotation, but this winter, I wore it almost every single day. Lately, I've been trying to introduce some sunnier colors into my wardrobe, namely lavender. I couldn't explain why, but then this week, while Googling grieving rituals in different societies, I learned that historically it's been a color that people wear when they're emerging from a period of solemnity. It's the shade of half-mourning. No wonder it feels right.
Daily Average Screen Time This Week: 2h 57min
Down 37 percent from last week. I finally went outside!