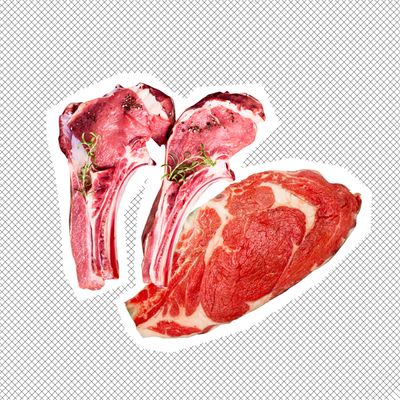 Photo-Illustration: by The Cut; Photos by Getty Images
There's something that happened, and that something is "The Snyder Cut." It happened, or it was cut. I'm not sure. Because I have no idea what "The Snyder Cut" is, all I know is that everyone was talking about it yesterday, because that's when the cut was cut (maybe?).
Let me back up: There is a man named Snyder (probably), who cut something, or it was cut in his name, and it was highly anticipated, and yesterday the cut occurred or became available and a lot of people were interested in that fact. Now I hope this is all starting to make sense.
Anyway, so many people are discussing "The Snyder Cut." While I don't ever plan to find out what it is (and please do not tell me), I am curious about it, I'll admit. Did "The Snyder Cut" hurt? Maybe "The Snyder Cut" is a place, like The Cider House Rules.
Just to make sure I've chased down all the possibilities of what "The Snyder Cut" could be without looking it up. Here is a definitive list of the things "The Snyder Cut" could be:
- A cut of meat (see above). A famous butcher named Hamish Snyder cut a big meat hock with a legendary knife, and everyone is going to their butchers and asking for "The Snyder Cut" of roast beef.
- A wound. "Ouch! I got a Snyder Cut! Named for a swordsman named Snyder. Please drive me to the hospital."
- The Snyder Cut dot com, a New York Magazine vertical. This one is slightly far-fetched because I think I would be informed if the Cut was purchased by someone named Snyder, but you never know these days. I hope he likes this website.
- A cut (?) of pretzel. As my colleague Amanda Arnold reminds me, Snyder's of Hanover is a delicious pretzel company, and perhaps the Snyder Cut is a reference to their famous pretzels. I like the honey-mustard and onion flavored pretzel chunks, and therefore I hope they are "The Snyder Cut."
- A hairstyle. "The Snyder Cut" is very possibly a haircut in the style of Rick Snyder, former governor of Michigan.
Now which one is it? We'll probably never know — or at least I won't. I don't plan to follow-up on whether any of these options turn out to be "The Snyder Cut." But I feel pretty good about these ideas, and that's what matters.