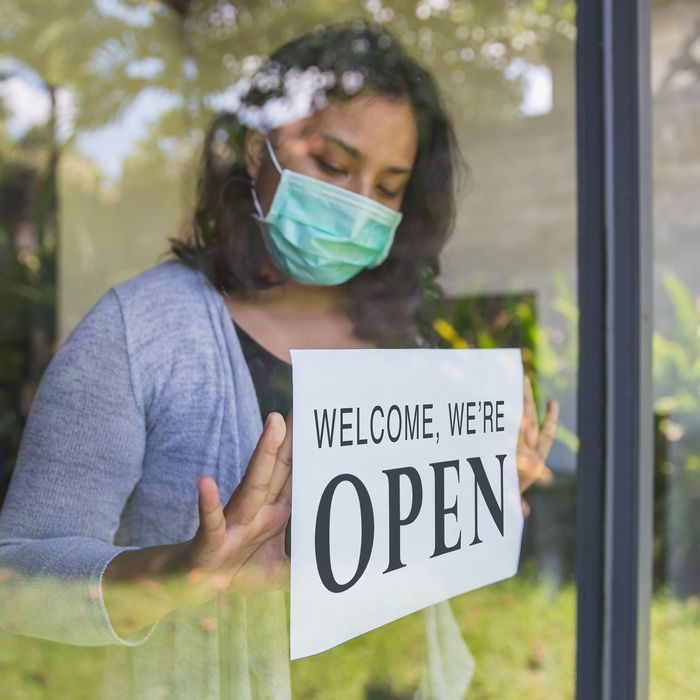 Photo: Kanawa Studio/Getty Images
With COVID-19 restrictions lifting all over the country, many business owners are cautiously reopening their doors after months of closure. But it can be risky (not to mention costly) to do so, especially since life is hardly back to normal and regulations for reopening aren't always clear. Here, three business owners in New York discuss what it takes to welcome their customers back in, and what scares them about the months ahead.
"I invested roughly $15,000, maybe $20,000, to reopen."— Latisha Daring, chef and owner of Greedi Kitchen, a vegan restaurant with two locations in Brooklyn
When COVID happened, I didn't know what to do besides try to continue business in some capacity, because I'm 100 percent self-funded. There was no plan B.
Initially, the pandemic wiped us out. Last March, business was down something crazy, like 80 percent for the month. We had a bunch of leftover food that no one was buying, so we made meals for elders in the community who couldn't leave their homes. Then I cut hours of operation. Customers were still showing up, which gave me hope, but it was nothing like what we were used to. Business picked up a little bit in the summer, but by August, we decided to [temporarily] close the smaller of our two locations, on Bergen Street. It was a tough decision, but it made more sense to put all our resources toward keeping the bigger location open. I still had to pay rent on both spaces, but closing one down was a big cutback on payroll, food supplies, and utilities.
Closing down completely wasn't an option. I couldn't afford to do that. I'm not in a financial position to just sit at home for a few months and wait it out. I wish that I could, to be honest, because I'm exhausted. But we never got any concessions on rent, so we had to find a way to pay that. But I never fell behind, this whole year. My rule for my businesses is that I never rent a space that costs more than what I think my business can produce in one day.
We also never received any government funding. I just applied for the PPP to see if I can get it this time around. But I wasn't expecting any help. I've never gotten loans. Which can be really disheartening when there's all this red tape that's expensive to navigate. When the city allowed us to open outdoor dining, I was so excited. I spent about $1,500 on wood and materials and built out a little seating area. Then, a week later, the city made all these new rules about measurements, and the inspectors came around and told me that what I'd built wasn't compliant. So I had to rebuild it. The second time cost $2,000. I was livid.
Luckily, I have never been a spender. The only thing I spend money on is my businesses. I am very disciplined about how money comes in and goes out. I watch every single line item. I do catering to bring in extra cash as well. And because of COVID, people have been too exhausted to cook for themselves, so catering has been lucrative for us, especially through the holidays. I've made that cash last for months and months.
We just reopened our second location three weeks ago. It took a few months to figure it out, business-wise and logistically. It used to have eight seats, like an intimate luncheonette; we took those out and now you order from a window. In addition to rebuilding the interior, we also had to hire a new trash company, create seating outdoors, and hire new staff because we lost our former staff when we closed. Between all of that, it cost roughly $15,000, maybe $20,000 to reopen; I was like, "Here's what I have. We'll need to make it work." The first two weeks were very quiet, but we just had our first fruitful weekend, so I'm excited about what's to come this spring and summer.
But I'm also scared. I'm nervous about when things reopen fully, and I don't know what's going to happen.
"If I can't figure it out, I might file for bankruptcy." — Molly Lamb, facialist and owner of Skin by Molly in Williamsburg, Brooklyn
I had to shut down my business last March, and I gave up the lease on my storefront in June. I'd had it for four years, so it was a really tough decision to close permanently and give up my employees. But I also couldn't justify re-signing a lease or rehiring my employees when the future looked so unstable.
In New York City, facialists weren't allowed to operate until August. I decided to move to a bigger apartment in Williamsburg, where most of my clients are, and just reopen at home. I rented a two-bedroom, and one of the bedrooms is my treatment room. My clients like it, it's super safe, and it's less overhead for me, so it's less stress. I didn't want to have to hire any employees and worry about them following safety protocols. If it's just me, I can know for sure that I'm doing it right and aboveboard.
The first few facials I did after six months of not working felt very awkward. I hadn't touched anyone else's skin in so long, and I was in full PPE. I got really emotional; I sat down in my apartment and cried afterward. I was like, Oh my God, I have reopened. I'm doing this. It hadn't hit me that this business I had built was forever changed, and a large part of it was gone. But I also felt so grateful that my clients were back, even though everything else was different.
Financially, I am in pretty rough shape. I sold most of the equipment from my studio, which helped tide me over a little bit. I also did virtual facials and sold products online. I got some PPP money, which was really helpful. But my unemployment never came through, for reasons I'm still trying to understand. And I was also in a lot of debt before the pandemic, and that debt has basically doubled. It's over $100,000 at this point. I am worried about it. If I can't figure it out, I might file for bankruptcy. That sounds dramatic, I know, but it's not the end of the world — it's an option for a reason, to wipe the slate clean. So that is something I'm considering in the future, if I can't pay these debts.
I've also been working on some side hustles. The pandemic has really taught me that I can't put all my eggs in one basket. Plus, my schedule hasn't been consistent — some weeks I'm busy, and others I have just two or three appointments. So I've been taking Zoom classes on how to brew beer, and I'm starting to get into music PR. Eventually, maybe I'll work in a brewery for a few days a week, and maybe book music for them too, and do facials a few days a week as well. That seems like it could be a fun and lucrative life. I figure this is the time to make changes like that.
"I know there will be some people who never come back to the studio again." — Jyll Hubbard-Salk, yoga teacher and owner of Urban Asanas yoga studio in Crown Heights, Brooklyn
I'm still officially closed and only doing Zoom classes. I also just started doing outdoor classes on the weekends, now that spring is here. I know there will be some people who never come back to the studio again; they're Zoom-only. And other people are like, "I've got a mask and disinfectant. I'm coming." My ultimate goal is to have classes in the studio at limited capacity and offer Zoom as well.
Yoga studios are allowed to open at 33 percent capacity now, and my assistant is like, "Girl, open next month! I'm getting all these DMs from people about it." But I'm listening to my gut, and I think I'm going to wait until June. I want to skip the hiccups. Because who knows. Look at all those knuckleheads that went down to Miami and are now coming back. I don't want to reopen, go through another surge, and then have to close again.
When we do allow people back, it's going to be 13, 15 people at a time, and that's it. My studio can fit 45 people, but it's like sardines, and I want to allow for plenty of space. There will be no walk-ins. You'll have to preregister and prepay. I want as little contact as possible. I have to get one of those air-filter machines, and I already bought all-new yoga mats and blocks. I'm going to be the only one teaching; I'm not going to rehire my teachers yet.
Luckily, I'm in a pretty good place financially, although I did go through pretty much all my resources in the past year. I'm still paying rent, but my landlord gave me a bit of a break. He trusts us, because he knows we have a successful business. I got a grant, which was a huge blessing. I've also been working with people from SCORE, which is a group of finance people who volunteer to mentor small businesses. They've helped me apply for the PPP money. I didn't get any in the first round, but I have more hope this time. They're also giving me financial coaching. When I reopen, I think my financial foundation is going to be really strong because they've helped me get my books in order. I feel ready. I want to come back strong and do whatever I can to help people in this community.