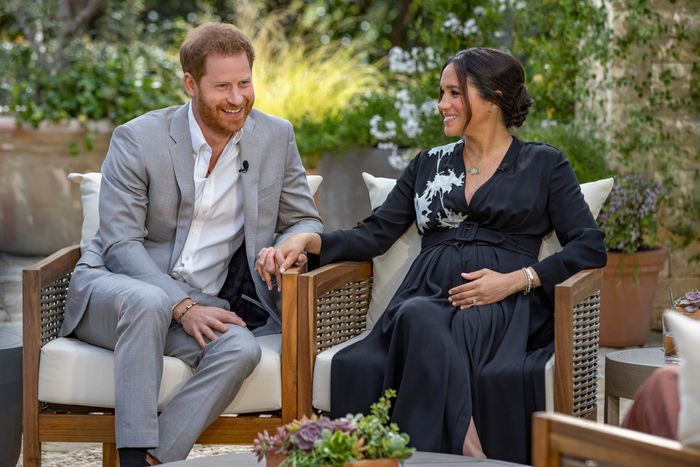 Meghan Markle in conversation with Oprah Winfrey.
Photo: Harpo Productions/ Photographer: Joe Pugliese
On Sunday night, Meghan Markle and Prince Harry sat down for a shockingly frank interview with Oprah Winfrey — the couple's first since they stepped down as senior royals in January 2020. It was a historic television event, and everyone dressed the part. Oprah looked compassionate but firm in a full-pink monochrome look, including iridescent glasses and lipstick. Of course, Meghan and Harry's outfits were also carefully considered. Though not the focus of their interview, what they were wearing ultimately helped amplify what they were saying.
Harry, perhaps in a nod to his new home in the States, wore a classic "American guy" getup: a slim-cut, light gray J.Crew Ludlow suit which exposed his bare ankles when he crossed his legs. The look — relatively affordable, casual but not messy, fashionable but not flashy — was one of J.Crew's most popular items after it debuted in 2008, ironically among men entering the workforce for the first time. (In the interview, Harry confirmed that his family has cut him off financially, and that the "Netflix and Spotify of it all" partially helps him finance his family's private-security detail.) His outfit was almost identical to the one he wore after Archie was born in 2018, down to the shoes and socks. It's possible he pulled it right out of his own closet, as opposed to buying a new one — something his wife has done on numerous occasions as well.
Meghan, the true star of the show, wore a much more expensive black silk wrap dress by Giorgio Armani, which the public has never seen before. A belt at the waist helped accentuate her baby bump — it's a girl! — and a white lotus flower print cascaded elegantly down one of her shoulders. According to Town & Country, Meghan specifically chose the dress because of the symbolism associated with the flower. It has been known to "flourish despite seemingly challenging conditions," and is therefore associated with rebirth and spiritual enlightenment, the magazine wrote. (In her conversation with Oprah, Meghan elaborates on how the online trolling she experienced was "almost unsurvivable," saying that she had suicidal thoughts.)
The choice of Armani is also perhaps symbolic. Meghan has worn the designer before, but he is specifically known for his work dressing Hollywood's elite over the years — actor Alan Kim wore the brand last night as well — so it's possible that this was another nod to Harry and Meghan's new home in Los Angeles and their future career ambitions. (Oprah deftly dropped that she and Harry are working on a docuseries about mental health for Apple TV.)
As for accessories, a gold-and-aquamarine necklace by the designer Pippa Small hung prominently around Meghan's neck. She's worn it before; it features three stones and a small gold piece stacked in a row, perhaps to represent each member of her (growing) family. On her wrist, she wore a diamond Cartier tennis bracelet that once belonged to Princess Diana — a choice, according to People, that was made "so Diana could be with them."
Finally, Meghan wore a pair of sleek, black Aquazzura pumps with a long, thin heel, which she rested elegantly on the floor throughout the interview, seemingly to give her feet a break — a humanizing detail that was hard not to notice.
Together, the image of the couple sitting hand in hand had a similar vibe to their official portrait from October 2020, which they shared after they first stepped down as senior members of the royal family. The two seem free and more down-to-earth; they're the kind of people who have a chicken coop in their backyard, and not the kind of people who go hunting in Barbour jackets. But a lot has happened since October, and their outfits embodied that journey.