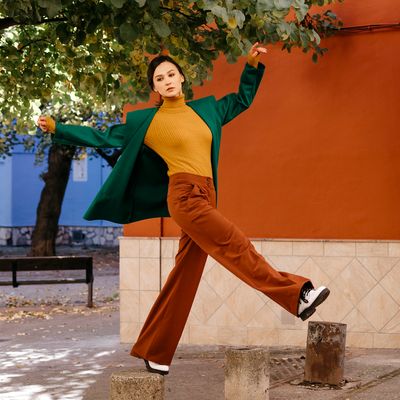 Photo: Getty Images/Westend61
Recently, while my friend and I were trying to take just one cute photo together, she showed me a video from what I now believe is one of the most helpful subsections of TikTok: posing tutorials. Turns out, there are a nearly infinite number of videos on the site dedicated to teaching awkward, non-Instafamous people (like me) how to pose in photos. After I moved past the feelings of dread about not knowing what's cool anymore, my friend and I quickly learned to position ourselves to our best advantage, and I decided I really love these tutorials.
Despite growing up in a time when every friend hangout consisted of sitting around taking pictures — we were using Instagram in high school, a fact that shocked my older co-workers — I never quite mastered the art of posing (aside, of course, from the cringey hand-on-the-hip pose that was very pivotal for my middle-school self). These TikToks make me feel so seen. While I will never be the type of person who goes out to simply take pictures of myself, these helpful tutorials give hope to those who average about one good picture of themselves per year.
Here are ten worth checking out.
Getting Right to the Point
This TikTok wastes no time telling you what you already know. I have to say, the example of cutting out your face entirely to show off only your bomb outfit? Genius.
A Bestie Moment
The friends in this TikTok are more trendy than I will ever be. I can't say that I will ever be able to master these poses, but the inspiration is enough.
Or, if you're the type of person who has more than one friend, here's how to take photos as a group.
The Most Useful
Until seeing this TikTok, I didn't know it was possible to look good sitting down in a picture. I also appreciate that the user gives you a little pep talk at the end.
Strike A Pose
This TikToker goes a step further by naming her poses. I will be trying out "the flamingo."
The Thirst Trap
This one is perfect if you periodically check to see if That One Person has watched your story.
And if that goes well for you …
Couples Poses
This TikTok will help make you and your boo are everyone else's relationship goals.
The Perfect Mirror Selfies
I used to think a "mirror selfie" was only one kind of picture. This TikToker also masters the art of looking flawless in a seated position. I have been wrong for so long about so many things.
On Location
If you have posing down, but you can't think of a single place to take your pictures, TikTok has that covered too (btw, if you're really serious about spicing up your Instagram feed, @mjhedderman on TikTok is a must-follow).
Hear From an Expert
Finally, in this TikTok, hear from a photographer who gives really explicit and clear advice on the perfect poses.