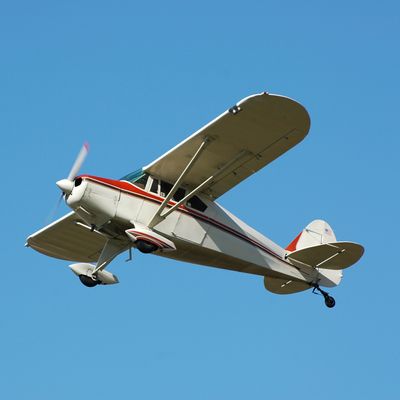 After completing its elaborate gender-reveal stunt, a small white plane plummeted into a lagoon off the coast of Cancún, killing the pilot and co-pilot.
Photo: Getty Images
Well, it has happened yet again: Another elaborate gender-reveal stunt has resulted in death, the Washington Post reports. The most recent incident of this unfortunate trend unfolded earlier this week, when revelers crowded in a small boat just off the coast of Cancún watched attentively as a small plane cruised overhead and emitted a diaphanous puff of pink smoke — and then things went awry.
The entire stunt was captured on video. "Girl! It's a girl!" a man can be heard cheering in Spanish, which others on the boat then joyously echo. And then, after passing over the boat, the plane swiftly careens downward, plummeting straight into the Nichupté Lagoon as the party's guests react in horror. Local authorities were then called to the scene to launch a rescue mission, which later confirmed that both the pilot and co-pilot died in the crash. Right now, the nature of the relationship between the party guests and those who flew the plane is unclear.
When gender-reveal parties first started to become a phenomenon — circa 2008, when a parenting blog popularized the concept — the reveal aspect typically didn't involve quite so many theatrics: think popping a balloon that exploded in blue or pink confetti or cutting into a thickly frosted cake that concealed the official colors of the gender binary. But in more recent years, gender-reveal stunts have become increasingly dangerous, with spectacles featuring over-the-top props and machinery and resulting in mass destruction and death. They've sparked huge wildfires, the most recent of which scorched more than 10,000 acres in Southern California last summer, forcing 20,000 people to evacuate their homes. Just this past February, a 26-year-old man was killed at a baby shower in Michigan after a "small cannon device" exploded, striking him with metal shrapnel. (A woman died in a similar way at a gender-reveal party in Iowa in 2019.)
And yet, the elaborate stunts continue — despite the well-documented trend of gender-reveal-gone-wrong. If you absolutely must make a spectacle out of revealing the sex of your impending child, why not return to the classic pink- or blue-hued cake? Or, if you're looking for an element of shock, there's always lasagna.