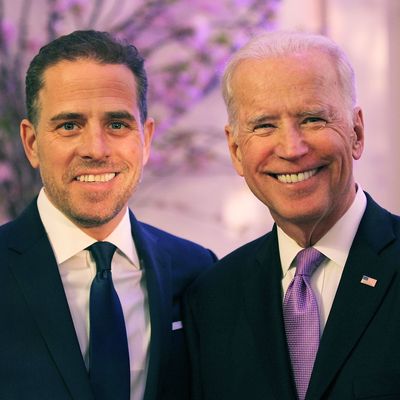 Photo: Teresa Kroeger/2016 Teresa Kroeger
President Joe Biden's son Hunter, now 51 years old, has had an often publicly tumultuous past. In the lead-up to the 2020 presidential election, the Trump campaign targeted Hunter — who spoke in support of his father alongside his sister, Ashley, at the Democratic National Convention — highlighting his allegedly corrupt business dealings in a digital ad campaign meant to cast an immoral shadow over Biden's prospective presidency. We know how that worked out: Joe Biden became the 46th president of the United States notwithstanding his son's controversies, though Trump took some time to admit it.
Hunter Biden has had a famously tragic family past, losing his mother and younger sister to a car crash when he was a very young child and then his brother, Beau, an Iraq War veteran, to brain cancer in 2015. Hunter has struggled with substance abuse and made headlines for dating his brother's widow, Hallie, in 2017. (They split in 2019; months later, he married his now-wife, Melissa, a week after they met.) He is a lawyer, venture capitalist, and sometime painter. He delves into all of the above (some in more detail than others) in his new memoir, Beautiful Things, which will be published by Gallery Books on April 6. Here are the biggest takeaways.
1. The book is primarily "a Biden love story."
The book's title was inspired by Hunter's late brother's mantra: "Beautiful things," meaning the pursuit of simple joys and noble causes they hoped to share after Beau recovered from cancer. Much of the early part of the book focuses on Beau's diagnosis and the various treatments the family pursued in an attempt to beat his very slim odds of survival. Hunter writes that if he could do it again, he wouldn't agree to put Beau through most of the treatments — especially the radiation, which, he writes, made it difficult for Beau to speak or put on his shoes.
In the last weeks of Beau's life, Hunter writes that he had to help his brother use the toilet and the shower, and he set up an app on Beau's phone meant to regulate his breathing. He says they spoke little about practical concerns, like what to do if Beau were to die. Instead, they discussed Beau's previously announced run for governor of Delaware, which he had hoped to resume after the surgery. "Politics are in the Biden bloodstream," Hunter writes. Beau died a little over a month later; his last words to his brother were to describe the view from his front porch as beautiful.
2. He remembers the family's tragic car wreck.
Although he was under 3 years of age at the time of the crash, Hunter writes that he has a vivid "single flash of memory" of the car accident that claimed his mother's and baby sister's lives. (He acknowledges that the memory may be a composite of family stories, news accounts, and "actual repressed memory.") He describes seeing himself in the back of the family's white Chevy station wagon alongside Beau, his sister asleep in a bassinet in the front passenger seat, when a tractor-trailer slammed into the side of their car, killing his mother and sister instantly. He then remembers waking up in a hospital bed with Beau in the next bed over, mouthing "I love you" to Hunter over and over. The phrase becomes another of the book's mantras and the foundation of the brothers' friendship. The fatal car wreck took place three weeks before Joe Biden was elected to the Senate.
3. He denies any wrongdoing concerning Burisma Holdings.
Hunter's connections to Burisma Holdings, a private natural-gas producer in Ukraine, became the source of political scandal (and the aforementioned Trump attack ads) in the 2010s, but in his book, Hunter insists there was "no criminal sexiness, no international hocus pocus … no there here." Hunter joined the board of the company in 2014, served for five years, and was reportedly paid as much as $50,000 per month in that capacity. Because he held the job while the company was facing investigations backed by the Obama administration, his role was criticized as a potential conflict of interest for his father when he was vice-president.
The Burisma chapter is predictably defensive. Hunter emphasizes that he "only bought a 10 percent stake" after his father left office and says the monthly salary was commensurate with "compensation given to board members at some Fortune 500 companies." Although Hunter writes that he did "nothing unethical," he nonetheless would not take the job again.
4. He had his first drink at 8 years old.
A self-described alcoholic and drug addict, Hunter says he sneaked a glass of Champagne at a party celebrating his dad's 1978 reelection to the Senate. He drank more intentionally beginning at age 14 with a friend who, later that summer, killed a passenger in a drunk-driving accident. Hunter continued drinking regularly on weekends; he writes that alcohol "seemed to solve every unanswered question about why I felt the way I felt." He adds that Beau was concerned but "wasn't a scold."
At 18, Hunter was arrested for cocaine possession, which he says scared him straight, if only temporarily. He characterizes his drinking as manageable until the year 2000 or so, when his family moved back to Delaware and his law work grew more demanding. He tried to stop several times before finally admitting himself to rehab for a month at the age of 33. When he completed treatment, Beau encouraged him to begin attending AA meetings, and Hunter was sober for ten years until he decided to order a Bloody Mary (and then two more) on a flight home from a business trip to Spain. This swiftly led to a relapse and another trip to rehab.
5. His relapse followed soon after Beau's death.
As early as Beau's funeral, where Hunter delivered a eulogy despite dreading public speaking, he remembers feeling concerned that Beau's passing would impact his fragile sobriety. Hunter's marriage to his then-wife, Kathleen, was deteriorating around the same time, though he didn't realize it then. They had endured previous struggles with his alcoholism, and Hunter believed they could make it work. According to him, Kathleen decided their marriage was over the day Beau died.
After the couples-therapy session at which this revelation was made, Hunter writes, he bought a bottle of vodka, ending his then months-long sobriety, and entered rehab under an assumed name (Hunter Smith) within weeks. The rehab didn't take, and he describes going on to drink a bottle of vodka every day for a month, dropping 20 pounds and losing track of time. Hunter got sober at another facility and months later relapsed again — this time becoming hooked on crack over a period of three years ending in early 2019. During that time, his otherwise unhoused dealer lived with Hunter for five months. ("The two of us interacted like a deranged, crack-addled version of The Odd Couple," Hunter writes.)
6. His relationship with Hallie Biden was brief and troubled.
Hunter acknowledges that he and his late brother's wife had a romantic relationship forged by shared grief, though his account of the relationship spans only about six pages. It overlapped with the three-year crack bender he describes as taking place between 2016 and 2019 (which is when they broke up and he got clean). He describes them as a "star-crossed coupling" that "made perfect sense except for how it made no sense at all." He says his motivation lay largely in wanting to care for his late brother's children and felt that being with their mother might somehow keep Beau alive. Hunter writes that the relationship "blew up" after it became public and he was characterized as "the sicko sleeping with [his] brother's wife." He claims the fallout led to his losing nearly all of his clients and having to resign from his position with the World Food Program. Of the relationship, he writes, "There was no putting Humpty Dumpty together again."
7. His parents staged an intervention.
In late 2018 and early 2019, when Hunter was in the throes of his crack addiction, Jill Biden invited him to a family dinner at the senior Bidens' home in Delaware. He agreed but "knew something was up" when he was also met by his children and two counselors from a rehab center he had previously visited. Hunter fled the house, chased by his father, who caught him in a hug. Hunter agreed to go to a different rehab. Hallie dropped him off at its front gate, but Hunter then called an Uber and fled for the airport. At a California hotel, he met a drunk guy poolside who suggested Biden meet a friend in her 30s named Melissa. Hunter later texted her, asking to meet for a drink; she declined. But the next morning, she texted to ask him for coffee. Hunter assumed they would meet for a hookup but describes being instantly smitten, telling her that she had the same eyes as Beau and that he was in love with her. An hour later, she said she felt the same. When he confessed his crack addiction, she said, "You're finished with that." He agreed and credits her with nursing him back to health and sobriety. They have matching tattoos and were married seven days after meeting.
8. He's running (probably).
Although it was Beau whom President Biden expected to one day become president himself — and Beau that his brother spends much of the book extolling — Hunter's memoir seems to be establishing a framework for an eventual campaign of his own. He recounts childhood days at the Senate Office Building, where both Biden sons spent significant time visiting their father at work. Anecdotes about bipartisan friendliness from other then-senators seem intended to bolster his father's bipartisan appeal as well as the potential for his own. Hunter positions himself as both political insider ("having been around the Senate since I was three years old") and outsider ("Beau and I didn't grow up in Washington. We didn't really hang out with other senators' kids"), much as his father had done before him, and similarly praises the family's bootstraps work ethic, Christian progressivism, and common-sense centrism. Hunter insists he's different from other famous political sons, but it's hard to envision a future in which he doesn't run for political office or to believe this book isn't meant as his first platform.