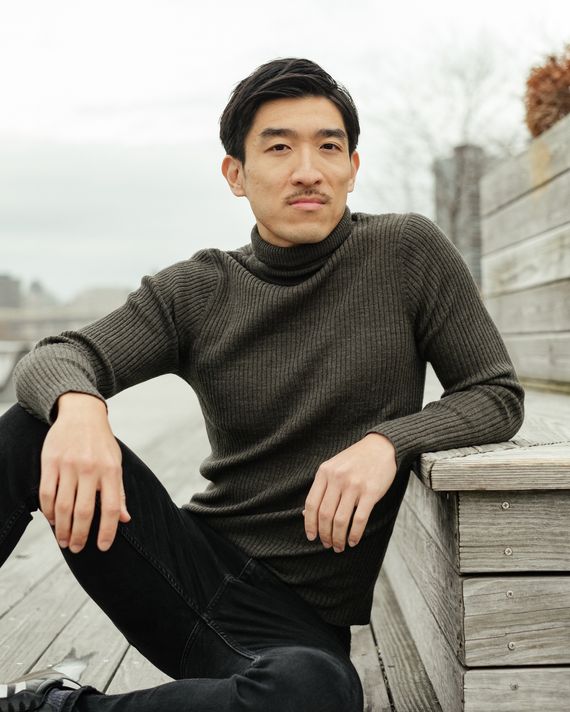 Photo: Stephanie Mei-Ling
It's the first warm day of the year in New York, one of those where the air smells of daffodils and everything feels stickier and a bit sexier than it ought to. The advent of spring, after the city's unforgiving winter, is always a horny time — and this year, after 13 months of pandemic living, the effect has been magnified a million times over. So it makes sense, then, that the faceless man behind TurboVax, a Twitter account that provides New Yorkers with vaccine appointment openings in real time, has garnered the moniker "Vaccine Daddy."
In person, I have to say, it's a fitting title. When I arrive at Chelsea's Chop Shop, the engineer behind the account, Huge Ma, is already waiting for me. He's wearing pewter-rimmed glasses and has the kind of full-face smile that's evident behind his face mask, a neat plaid number. A worn blue T-shirt stamped with "Brandywine Falls, Ohio" gives way to splendid arms, one of which offers me an elbow bump, revealing splendid biceps. I spy a tennis racquet poking out of his backpack and thank it.
As of writing, TurboVax's Twitter page has more than 160,000 followers, and its website sees up to a million views a day. Ma built it in mid-January, badly but functionally, he says, while Bridgerton played in the background. The impetus was his own experience: The process of securing his mom an appointment was so vexing he thought he'd "take a pass at a small slice of a big problem."
But to say TurboVax is simply a bot that has helped thousands of New Yorkers navigate the state's byzantine vaccination system is only half the story. The other, and the one where Ma becomes inseparable from his platform, is about the recent spike of attacks on the Asian American community. These days, his messages denouncing anti-Asian racism—sent alongside news items documenting anti-Asian hate crimes and action items in support of the AAPI community—arrive alongside vaccine availabilities. To date, TurboVax has raised more than $180,000 for Welcome to Chinatown.
"I'm not used to speaking up. I'm a very private person," Ma explains over a lunch of crab fried rice and lychee cocktails. And while his charisma is softened by a kind of bashfulness, and he tends to cleverly deflect most personal questions, I wouldn't call him guarded. Like his messages on TurboVax, Ma is plainspoken and lucid — so entirely unself-conscious about his opinions that I'm almost envious.
Still, before TurboVax, the most revealing thing about Ma on the internet may have been his cat's Instagram (he adopted Maomao, "Catcat" in Chinese, in the early months of the pandemic). He didn't have much of a social media presence otherwise, choosing not to publicly document his quarantine pastimes — watching BBC Live Lounge performances and Architectural Digest home tours and playing Harry Styles songs on the piano.
So it goes without saying that the veritable media frenzy around TurboVax took its creator by surprise. It began when the New York Times found an early version of the site, and the ensuing story trended on Twitter. Soon after the Guardian called, Ma was crowned "New Yorker of the Week" (something that he, a Queens native, had never even heard of). Steve Martin followed TurboVax. Steve Martin unfollowed TurboVax. Russian television, Swedish radio, and one ex reached out. When a producer showed up to Ma's mom's house, she was hardly surprised — her son was going viral on Chinese social media.
Then, on February 27, Ma took TurboVax offline for two days. At that point, he'd surpassed 100,000 followers, an audience that included celebrities, politicians, and almost every media person in New York City. "I am temporarily suspending TurboVax," he wrote in a tweet. "Anti-Asian hate crimes are out of control. I am taking a stand because I fear for my friends and family." It was an act of protest that Ma describes struggling with deeply but one that would set the tone for TurboVax going forward.
"You can't expect people to listen until you make them listen," he says after a long pause. His hands, which are rarely still, resume tucking phantom hair behind his ears, a habit he acquired the previous day following a haircut. "I've never really been outspoken politically. I've always felt this way and have acted accordingly, but I have never shared it publicly. But I almost felt like I didn't have a choice. I was speaking out in self-preservation. Many of us could feel that this was only going to get worse — that this harassment was going to turn into violence."
He was right. Hate crimes against Asian Americans have been on a horrifying rise this past year, including in New York City, where there were several attacks this past week. A month after Ma took TurboVax down, six Asian women were killed in a mass shooting in Atlanta. "TurboVax has become the purest form of expression of myself," he wrote the day following the murders. "I am Asian American. TurboVax is therefore as Asian American as anyone else."
Ma refers to TurboVax as "his baby" but is quick to stress that anyone with coding abilities could have done it. More difficult — and important — was speaking out. The idea that he'd be giving an interview about "meaty issues like racism" was something he could never have imagined: "It's way above my pay grade," he says. "But I spoke up when I had the opportunity. I think you never really know what the impact is unless you try."
For now, he's taken a break from his day job at Airbnb to run TurboVax full time with the goal to open-source the code so people everywhere can replicate it. (He has no plans to monetize it, although one wicked friend has been pressuring him to sell "Vax Daddy" merch.)
But most of all, Ma wants to get back to his normal life; he misses hollering "Mr. Brightside" at karaoke at Asia Roma in Chinatown and playing soccer without a mask. His post-vaccination fantasy is the same as mine: "Go to a random house party, crack open a beer, and stand around talking to my two friends the entire night." And once all the vaccines are distributed? TurboVax will simply pivot to bike-lane advocacy.
When asked if the last few months have changed him, Ma jokes that he maybe lost some weight and gained some Twitter followers. But on a more serious note: He's happy that he can show everyone that his mom, who raised him alone after his dad died when Huge was in high school, did a "decent" job. And he's happy to have done a service for his city.
"If you were to tell me from the very beginning that I would have helped a hundred people get their vaccines, I would have been ecstatic… At this point, it's tens of thousands. It could be hundreds of thousands," he says with a shrug. "I would like to think that once it's all said and done that I've made a meaningful difference in the lives of many New Yorkers. That never would have happened if I just didn't do it."