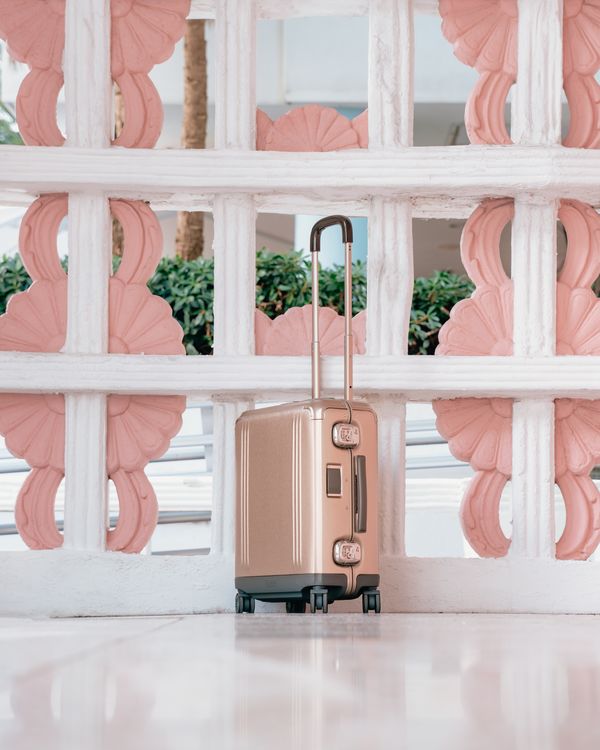 Throughout the pandemic, all of my other accessories — such as sunglasses, jewelry, and handbags — have been given plenty of love. But my suitcase, shoved somewhere in the furthest depths beneath my bed, hasn't seen daylight in over a year. In fact, I almost forgot it existed until my friends started sharing the news that the E.U. is set to let vaccinated Americans visit this summer. Even if I'm not necessarily planning to travel to Europe, the prospects of dusting off my suitcase and traveling again are exciting.
My 2021 self, however, will fully relish in the flying experience rather than dread it like the spoiled brat I was pre-pandemic. (You don't know what you've got till it's gone!) This involves putting on a head-to-toe airport look decked out in accessories, which obviously includes a gorgeous, bougie suitcase. The one I specifically have in mind is a bronze-tinted aluminum carry-on case from Zero Halliburton.
The brand's aluminum cases, which were first introduced in 1938, have done it all. They went to outer space to carry moon rocks back to earth on Apollo 11 in 1969, and they've done plenty of time in Hollywood, appearing in over 200 films and television shows, including the James Bond series, Mission: Impossible, and Inception. From a fashion perspective, the Japanese brand isn't as hyped as some luggage companies, which gives it some low-key coolness.
Bottom line, it'll look perfect resting next to the airport bar in JFK while you sip on a martini. See all the Zero Halliburton aluminum suitcases here.