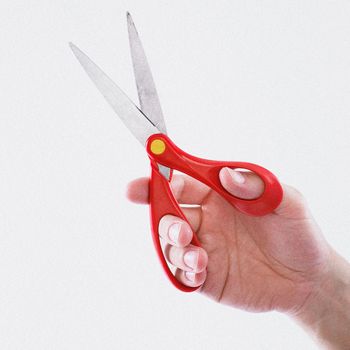 Photo: Image Source/Getty Images
A white Michigan school teacher reportedly took it upon herself to cut a biracial student's hair last month. The girl's father, Jimmy Hoffmeyer, told the Associated Press that when he complained to the principal, "She said she didn't have the authority to do anything," and instead asked "what she could do to make it go away."
According to Hoffmeyer, this was the second unasked-for chop his 7-year-old daughter, Jurnee, received in a single week. On March 24, she came home from school with one side of her head closely cropped, after another student (also white) took scissors to her long curls on the bus. "It was a child," Hoffmeyer explained to Mount Pleasant ABC affiliate WJRT, "and you're not thinking of any serious consequences having to do with a kid." He says he took Jurnee to a salon that afternoon, where the stylist gave her an asymmetrical cut, keeping some of the length. But when Jurnee came home from school two days later, the rest of her hair had been lopped off, too.
"She was crying," Hoffmeyer told the AP. "I asked what happened and said, 'I thought I told you no child should ever cut your hair.' She said, 'But Dad, it was the teacher.' The teacher cut her hair to even it out."
Speaking to WJRT, he added that Jurnee had been "so embarrassed. Because she had to go back to class like that."
And whereas Hoffmeyer received a call from the school about the bus incident, he indicated that the teacher's haircut came as a surprise. "Our kind of hair, you can't just wet down and cut it," he told WJRT. "Even if they were trying to do it in the kindness of their heart, once they [saw] the outcome, they should have been like, 'Yeah, we messed up. We should probably call him and let him know what just happened.'"
When he contacted the principal, Hoffmeyer says she told him she could make a note in the teacher's file — nothing more. While the school district's superintendent allegedly offered to send apology cards to Jurnee and her family, Hoffmeyer feels administrators have largely failed to answer his questions. He has reportedly enrolled his daughter at another school.
"I would like them to own up to their responsibilities," he told WJRT. "Like, we've been asking [for] a public apology … to let Jurnee know that, yes, they acknowledge that it was wrong and that it should have never been done and that she should never have been through something like this."
The Cut has contacted both the Mount Pleasant School District and Ganiard Elementary for comment and will update if we hear back. Meanwhile, at a Monday night board meeting, superintendent Jennifer Verleger reportedly called allegations of racial bias "inaccurate" but said the district investigates them "in accordance with the law."
Speaking of which, Michigan is among the states currently considering a CROWN — Creating a Respectful and Open World for Natural Hair — Act to guard against the discrimination Black women and girls often face in wearing natural and protective styles. Representative Sarah Anthony, who is sponsoring her state's CROWN Act, told Michigan Radio that the legislation would be helpful in exactly this kind of situation, "where there is a clear indicator that a child was discriminated against or otherwise mistreated as a direct result of their hair texture." Anthony added: "I hope the Mt. Pleasant Area School District thoroughly reviews and investigates the circumstances surrounding the incident and considers adopting clear anti-discrimination policies districtwide."