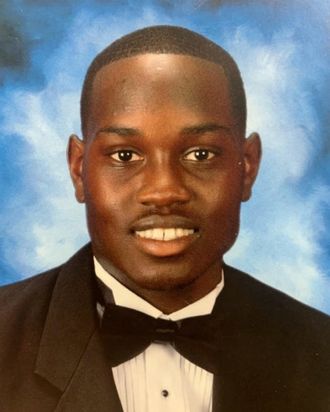 Ahmaud Arbery
Photo: Family Photo
In February 2020, two armed white men in a pickup truck chased down 25-year-old Ahmaud Arbery while he was jogging in Brunswick, Georgia. With the help of a third man, they boxed in Arbery — who was Black — and confronted him, shooting him point-blank. On Wednesday, a grand jury indicted those three men on federal hate-crime charges, adding to the murder charges the state announced last spring.
"He was killed because of hate. It was initiated by hate," Arbery's mother, Wanda Cooper-Jones, said of the indictment, which is well over a year in the making. "We look at this as one step closer to justice for Ahmaud."
According to the Department of Justice, Travis McMichael; his father, Gregory, a former cop; and William "Roddie" Bryan face one count each of interference with rights as well as one count each of attempted kidnapping. The McMichaels also face charges for "using, carrying, and brandishing — and in Travis's case, discharging — a firearm during and in relation to a crime of violence."
Although Gregory told police early on that Travis shot Arbery, claiming he resembled a burglary suspect neither of them had actually seen, it took local prosecutors months to charge any of the men involved. Initially, the McMichaels argued that Arbery attacked them, yet footage of the young man's final moments tells a different story. The McMichaels saw him running and hopped in their truck, followed by Bryan, ultimately blocking Arbery's path and engaging him in a struggle when he tried to run away. Travis then fired his shotgun at Arbery multiple times, killing him. The Justice Department considers this a hate crime, charging that the men "used force and threats of force to intimidate and interfere with Arbery's right to use a public street because of his race." They saw a Black man in a mostly white neighborhood and assumed criminal activity.
In addition to the federal charges, Bryan and the McMichaels face state charges of malice murder, felony murder, aggravated assault, false imprisonment, and criminal attempt to commit a felony after the Georgia Bureau of Investigation took over the case last May. Before that, the local district attorney — George Barnhill, the second DA to take on the case, after his predecessor recused herself over her connections to the McMichaels; ultimately Barnhill would have to do the same — concluded that the men had acted in accordance with Georgia's citizen's arrest and stand-your-ground laws. Barnhill wrote that they were in "hot pursuit" of a man they had decided was a burglary suspect, had "solid firsthand probable cause, in their neighborhood," to stop him, and that their intent had been "perfectly legal." The GBI disagreed, however, and arrested the McMichaels within 36 hours of investigation. No trial date has yet been set.
Meanwhile, Cooper-Jones filed a federal civil-rights lawsuit against the McMichaels and Bryan, which also names the district attorneys. "When I laid Ahmaud to rest, one of the last things I shared with my son was, 'I will fight for you, son,'" she said in February. "Now it has been revealed what happened. My fight turns into justice."