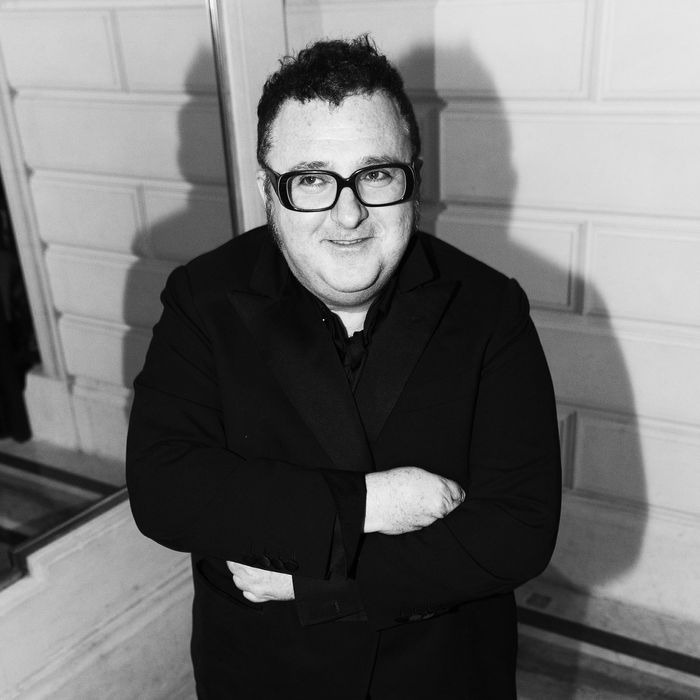 Photo: Bertrand Rindoff Petroff/Getty Images
This weekend, the fashion world lost one of its most beloved figures: Alber Elbaz. The Moroccan-born Israeli designer — known for his work at Lanvin, his signature bow tie, and his loving nature — died at a hospital in Paris on Saturday at the age of 59. The cause of his death was COVID-19, which has tragically claimed the lives of designers Kenzo Takada and Sergio Rossi in the last year as well.
Elbaz got his start in the industry working for the New York-based designer Geoffrey Beene. Kim Hastreiter, the co-founder of Paper magazine, remembers Elbaz accompanying Beene to their monthly lunches at The Odeon in Tribeca. "Mr. Beene adored Alber who inspired him and Alber adored him back," she wrote on Instagram this weekend.
In 1996, Elbaz moved to Paris to become the head of prêt-à-porter design at Guy Laroche. Two years later, he moved on to Yves Saint Laurent, but was fired after just three seasons when Gucci Group bought the company.
Finally, in 2001, Elbaz was appointed fashion director at Lanvin, where he thrived for over a decade before parting ways with the brand in 2015. He is credited with breathing new life into the historic French house, and his work was adored by celebrities and luxury shoppers alike. They chose to wear his clothes for some of the most important moments of their lives. Beyoncé wore one of his gowns when she announced her first pregnancy, for example. He also dressed Kim Kardashian for her first Vogue cover and for her first solo Met Gala appearance.
"Above all else he loved women and just wanted to make them feel as beautiful as possible," said British Vogue editor-in-chief Edward Enninful of Elbaz's work.
After a five-year hiatus, Elbaz returned to the fashion world this year with the launch of AZ Factory, a brand that promises "beautiful, purposeful, solutions-driven fashion that works for everyone." In January, Elbaz — who you could always count on to give a relatable quote — told the New York Times of his new venture: "I asked myself, 'If I was a woman, what would I want?' Something that is first comfortable. Something fun. Something that lets me eat a big piece of cake."
Beyond his design talent, Elbaz will be remembered by his peers for his spirit. Dior designer Maria Grazia Chiuri said he was the "first person who made [her] feel at home in the fashion industry."
"He was a light like no other in the world," wrote fashion designer Stella McCartney on Instagram. "In fashion, his immense talent shone so bright that it tore up the conventions and wrapped a million souls in happiness when they wore his creations."
"He was able to infuse his soul into his work by creating an aesthetic that spoke so loudly of his colourful, sparkling, and intense joy [sic] de vivre," echoed Valentino designer Pierpaolo Piccioli.
"Because of his incredible bandwidth of talent, his fashion legacy will live forever," added industry veteran Julie Gilhart. "But his true legacy is how he touched so many people's hearts and how he made everyone he came in contact with feel so loved."
Below, a roundup of moving tributes to the designer on Instagram.
Kim Kardashian
Stella McCartney
Julie Gilhart
Marc Jacobs
Maria Grazia Chiuri
Sarah Jessica Parker
Kim Hastreiter
Pierpaolo Piccioli
Edward Enninful
Nina Garcia