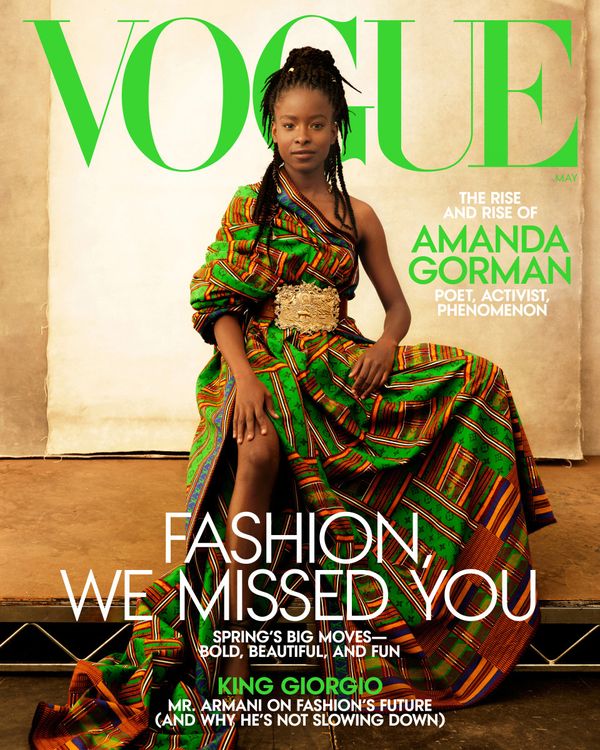 Photo: Annie Leibovitz/Vogue
On Wednesday morning, Vogue revealed its May cover starring poet Amanda Gorman. Actually, it's two covers, both shot by noted photographer Annie Leibovitz and styled by Gabriella Karefa-Johnson. The National Youth Poet Laureate appears wearing Dior Haute Couture and a Louis Vuitton Kente gown designed by Virgil Abloh, who is of Ghanian descent. This is Gorman's second big cover since she read her poem, "The Hill We Climb," at the presidential inauguration; she also covered Time magazine's February issue.
"Oh, how widely my Sierra Leonean grandfather, my grandmother, and all of my ancestors must be smiling," Karefa-Johnson wrote in an Instagram post. "How chuffed they would be to see a symbol of our heritage celebrated in this way. How astounded they would be by a young Black woman so graciously and confidently commanding the world stage as Amanda has — so beautiful and so powerful and so emblematic of a better future. Thank you to Virgil Abloh for creating in his collection for Louis Vuitton a moment that speaks to how important cultural heritage is in the work that we do."
Noting the significance of the moment, Karefa-Johnson goes on to say that this cover is about "embracing all that is so beautiful about is, of rejecting the constant policing of how we Black womxn show up in the world." Gorman's Kente gown, she adds, represents cultural unity across the African diaspora.
Still, American Vogue is playing catch-up to include Black women both on the covers and behind the scenes. Even in the magazine's efforts toward inclusivity, it's historically turned to Black men first. In January, Gabriella Karefa-Johnson, who started out as an intern in the Vogue fashion closet, was the first Black woman to style a Vogue cover. And in April, Nadine Ijewere became the first Black woman to photograph a cover of American Vogue.
Of course, Gorman's cover is a monumental occasion to celebrate, but there's still a lot of work to be done before we can stop announcing "firsts" way too late.