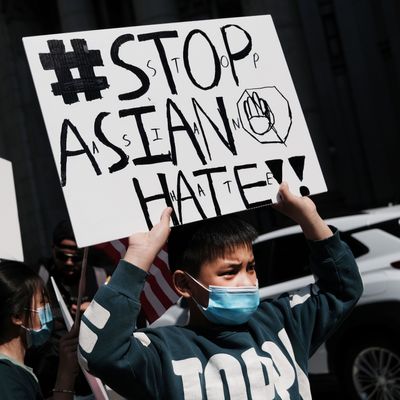 #StopAsianHate.
Photo: Spencer Platt/Getty Images
Last month, a 32-year-old Asian woman was walking along Kings Highway in Midwood, Brooklyn, when a man wearing a hoodie approached her and grabbed her violently. In a video of attack, which occurred on March 22, the woman struggles against the man as he pushes his body against hers and yanks at her hair, eventually freeing herself as he walks away and bangs his arms against a storefront.
The attack, which was completely unprovoked, comes amid a surge in violence and discrimination against Asian Americans. On Wednesday evening, NYPD's Hate Crimes Task Force arrested Joseph Russo, 28, who they believe is the perpetrator behind the Midwood assault, as well as two additional attacks against Asian Americans that occurred in the past month. The first assault took place on March 5, when a 64-year-old Asian woman was thrown to the ground, injuring the left side of her body. The other attack occurred on April 5, when a 77-year-old Asian man was shoved onto the sidewalk while he was looking at a vegetable stand outside a supermarket in Sheepshead Bay. While the victim did not seek medical attention, he was left with a bruised arm.
Russo is now facing charges stemming from the three separate incidents: three counts of assault as a hate crime, two counts of harassment as a hate crime, and one count of aggravated harassment as a hate crime.
Fueled by Donald Trump's racist rhetoric around the coronavirus pandemic, verbal and physical assaults against Asian Americans have surged in the past year. In mid-March, a lone gunman went on a violent rampage in the greater Atlanta area, murdering six Asian women at three separate spas; the weekend after that, when the Asian American community came together to mourn, five Asian women were attacked in New York City alone. Just last week, a man threw a 65-year-old Asian woman to the ground in Midtown, where he stomped on her head, berated her with anti-Asian remarks, and told her, "You don't belong here."