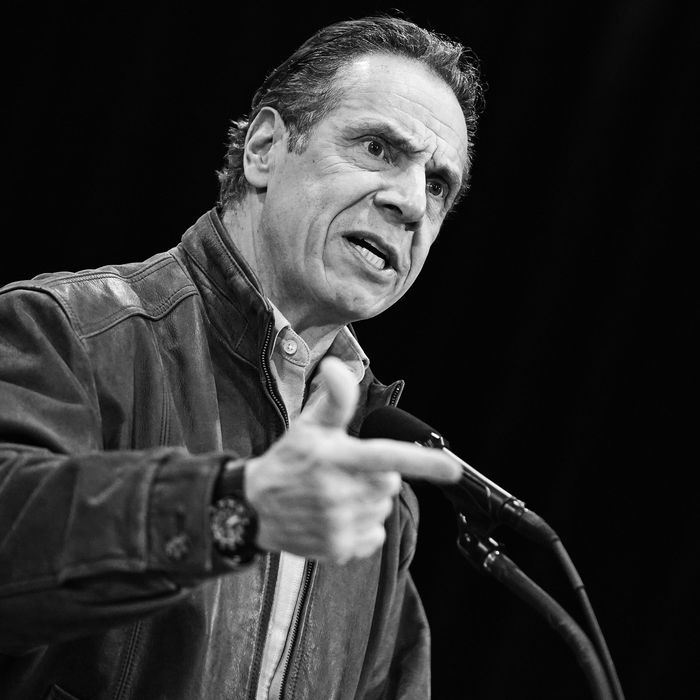 Photo: Seth Wenig/AP/Shutterstock
In October, Governor Andrew Cuomo was promoting his book, American Crisis: Leadership Lessons From the COVID-19 Pandemic, just seven months after said pandemic began. Tens of thousands of people had died in his home state; at one point, New York City had the highest death rate in the world. Critics thought his bombast was arrogant and insensitive given how much New Yorkers had suffered and were still suffering — after the holidays, and Cuomo's book publication, the infection rates in New York soared again.
Now, Cuomo is facing a firestorm: Over the last few weeks, he has been accused of misconduct by nine people, ranging from harassment to sexual assault; several of the accusers have worked for him, including one anonymous aide who says the governor "aggressively groped" her last year.
Former staffer Lindsey Boylan first came forward to say Cuomo "sexually harassed [her] for years" via Twitter in December, but did not go into detail about what transpired. (A representative for Cuomo said there was "simply no truth to these claims" at the time.) The accusations snowballed in February after New York State assemblyman Ron Kim accused Cuomo of calling him at home, berating him, and telling him he would "destroy him" in response to statements Kim gave to the press. Multiple reports quoted anonymous and on-the-record government officials stating Cuomo has long managed via intimidation and bullying tactics.
Inspired by Ron Kim's account of Cuomo's behavior, Boylan detailed her accusation in a Medium post; eight other women have since gone public with their own allegations of misconduct. An investigation has been turned over to the New York State AG, and a growing number of public officials are calling for Cuomo's resignation.
Here's everything we know about the allegations against Governor Cuomo:
Lindsey Boylan first accused Cuomo of sexual harassment in December.
Boylan served in the Cuomo administration as executive vice-president of Empire State Development and then as a special adviser, from March 2015 to October 2018. She is currently a candidate for Manhattan borough president. On December 13, Boylan tweeted a thread about harassment in the workplace and abuse of power, during which she wrote, "Yes, @NYGovCuomo sexually harassed me for years. Many saw it, and watched… I could never anticipate what to expect: would I be grilled on my work (which was very good) or harassed about my looks. Or would it be both in the same conversation? This was the way for years." Her thread followed a tweet the day before in response to rumors that Cuomo was being considered for a position in the Biden administration: "There are fewer things more scary than giving this man, who exists without ethics, even more control," she had written.
Boylan did not elaborate at the time and declined to talk to the press. The governor's press secretary denied the claims to the New York Times, and Cuomo told reporters he knew about the thread but denied any wrongdoing. "I fought for, and I believe, a woman has the right to come forward and express her opinion, and express issues and concerns that she has, but it's just not true," he said. Asked whether or not he had ever commented on Boylan's looks, Cuomo reiterated that "the tweets were simply not true."
In February, Assemblyman Ron Kim said Cuomo called him and aggressively threatened him at home after Kim publicly criticized him.
On February 11, Kim spoke critically to the New York Post about allegations that Cuomo and his administration had covered up nursing home deaths in New York during the coronavirus pandemic. (The FBI and the U.S. attorney's office in the Eastern District of New York have launched an investigation into the administration's conduct.) Kim says that Cuomo called him at home later that day, extremely angry, and opened by asking, "Are you an honorable man?"
"He goes off about how I hadn't seen his wrath and anger," Kim told the New York Times, "that he would destroy me and he would go out tomorrow and start telling how bad of a person I am and I would be finished and how he had bit his tongue about me for months." Cuomo's team called Kim a liar; Kim said on the View that Cuomo "has abused his powers. And abusers are cowards." The Times reported that Kim's version of events "rang true" for many former employees of the governor, who said he had a tendency toward aggression.
.

Boylan was inspired to go public with more details.
In a Medium post published on February 24, Boylan detailed the allegations of sexual harassment she had alluded to previously, in part inspired by Kim's speaking out against Cuomo. "As Mayor de Blasio remarked, 'the bullying is nothing new,'" she wrote. "There are many more of us, but most are too afraid to speak up."
Boylan elaborated in her post that Cuomo allegedly fostered a toxic and intimidating environment in which "sexual harassment and bullying is so pervasive that it is not only condoned but expected." She said Cuomo would touch her on the lower back, arms, and legs; that her boss told her the governor had a "crush" on her; and that Cuomo would make comments about female staffers' weight and appearance. She also described an episode in which the harassment became physical: "We were in his New York City office on Third Avenue" at a meeting, she wrote. "As I got up to leave and walk toward an open door, he stepped in front of me and kissed me on the lips. I was in shock, but I kept walking." Boylan also said that she had heard from an additional two former staffers after she wrote her tweets in December who had similar stories of harassment by Cuomo, but they were afraid to speak out.
In a statement, Cuomo's press secretary repeated the governor's response that Boylan's allegations were "untrue" and refuted one of her claims that during an October 2017 flight, the governor suggested they play "strip poker." Four staffers had been on all of the flights with Boylan and the governor that month, they said, and all four denied that the interaction Boylan describes took place.
.

Her account prompted one of Cuomo's former executive assistants, Charlotte Bennett, to come forward.
On February 27, Charlotte Bennett, a former executive assistant who worked for Cuomo in 2019, accused Cuomo of sexual harassment via an article in the New York Times. Bennett, 25, told the Times that she initially "got along really well" with her Cuomo, but that something eventually changed. First, Cuomo seemed to develop a fixation with the fact that she was a survivor of sexual assault, she said. Then, on June 5, according to Bennett, Cuomo held her back in his office and questioned her repeatedly about her personal life. "He asked me if I believed if age made a difference in relationships and he also asked me in the same conversation if I had ever been with an older man," she said, and that Cuomo had said he'd felt lonely since his breakup with celebrity chef Sandra Lee and talked about "wanting a girlfriend, preferably in the Albany area."
Bennett texted friends after the conversation, messages the Times reviewed, that Cuomo had stressed how "age doesn't matter" to him and that he said he'd be "fine with anyone above the age of 22." "I understood that the governor wanted to sleep with me, and felt horribly uncomfortable and scared," Bennett said.
Bennett brought the encounter to the attention of Cuomo's chief of staff, Jill DesRosiers, who eventually transferred her to a different department away from the governor; nonetheless, Bennett quit in November 2020.
.

Cuomo denied the allegations but offered an apology.
After Bennett's accusations went public, Cuomo issued a lengthy statement on February 28. "I never intended to offend anyone or cause any harm," the governor said, but admitted that "at work sometimes I think I am being playful and make jokes that I think are funny." "I now understand that my interactions may have been insensitive or too personal and that some of my comments, given my position, made others feel in ways I never intended," he wrote. "I acknowledge some of the things I have said have been misinterpreted as an unwanted flirtation. To the extent anyone felt that way, I am truly sorry about that."
He reiterated that he denied many of the specific accusations against him, however: "To be clear I never inappropriately touched anybody and I never propositioned anybody and I never intended to make anyone feel uncomfortable, but these are allegations that New Yorkers deserve answers to," he said.
Bennett, Cuomo's second accuser, did not find the statement persuasive. "As we know, abusers — particularly those with tremendous amounts of power — are often repeat offenders who engage in manipulative tactics to diminish allegations, blame victims, deny wrongdoing, and escape consequences," she said in a statement of her own the next day. Her lawyer said that Cuomo "was not acting as a mentor, and his remarks were not misunderstood by Ms. Bennett … He was abusing his power over her for sex. This is textbook sexual harassment."
.

A third woman spoke out, saying Cuomo once tried to kiss her without her consent.
On March 1, the New York Times published a report on a woman who says Cuomo grabbed her face and tried to kiss her at a wedding in September 2019. Anna Ruch, 33, has never worked for Cuomo or for New York. She said she met the governor for the first time after he gave a toast at the reception, and that he immediately touched her bare lower back.
"I promptly removed his hand with my hand, which I would have thought was a clear enough indicator that I was not wanting him to touch me," she told the Times. But Cuomo simply called her "aggressive," she continued, and moved his hands to her cheeks — a moment one of her friends captured on camera. "He said, 'Can I kiss you?'" she recalled, explaining that she flinched away so he missed her mouth. She then posed for a photo with him, although she "felt so uncomfortable and embarrassed." But "really," she added, "he is the one who should have been embarrassed."
"It's the act of impunity that strikes me," Ruch said. "I didn't have a choice in that matter. I didn't have a choice in his physical dominance over me at that moment. And that's what infuriates me."
In a press conference on March 3, Cuomo specifically addressed the above photo released with the Times report of the governor grabbing Ruch's face, as she is clearly in distress, which went viral: "You can find hundreds of pictures of me making the same gesture with hundreds of people," he said, "Women, men, children, etc. … It is my usual and customary way of greeting."
He added, "However, what I also understand is it doesn't matter. It doesn't matter my intent. What matters is if anybody was offended by it, and I could intend no offense, but if they were offended by it, then it was wrong. And if they were offended by it, I apologize."
.

On March 6, Anna Liss, another former aide, alleged inappropriate conduct.
Ana Liss, who worked as a policy and operations aide for Cuomo from 2013 to 2015, told The Wall Street Journal on March 6 that during her time in the administration, she had been subjected to multiple instances of conduct by Cuomo that she considered demeaning and inappropriate. The governor had "asked her if she had a boyfriend, called her sweetheart, touched her on her lower back at a reception, and once kissed her hand when she rose from her desk," the Journal reports. Liss said that her experience working for the governor prompted her to begin mental-health counseling in 2014 and that she drank heavily that year as a result.
Cuomo adviser Rich Azzopardi released the following statement in response: "Reporters and photographers have covered the governor for 14 years watching him kiss men and women and posing for pictures. At the public open-house mansion reception, there are hundreds of people, and he poses for hundreds of pictures. That's what people in politics do."
.

More anonymous former aides have described a "toxic" environment, and former HUD aide Karen Hinton said Cuomo "embraced" her in a hotel room.
Also on March 6, the Washington Post published an article containing accounts from multiple female former aides alleging inappropriate behavior that echoed Liss's, Boylan's, and Bennett's characterizations of the governor's conduct in the workplace. One former staffer said the governor called her "honey" or "sweetheart" instead of using her name. Another said she had the sense that "that you were expected to look and behave in a certain way, be playful in a certain way" and that part of her job was to be "eye candy."
Two male aides who used to work in the governor's office told the Post he "routinely berated them with explicit language, making comments such as calling them 'pussies' and saying, 'You have no balls.'"
Karen Hinton, who worked as a press aide for Cuomo when he ran the U.S. Department of Housing and Urban Development, described a distressing encounter with Cuomo in a hotel room. While she was consulting for the agency in 2000, Hinton said, Cuomo asked her to visit his hotel room during a HUD conference in Los Angeles. When she arrived, the lights were dimmed, she told the Post, and Cuomo asked her personal questions. She got up to leave and alleges that Cuomo gave her a hug that was "very long, too long, too tight, too intimate." Hinton says she pulled away, but "he pulls me back for another intimate embrace," she said. "I thought at that moment it could lead to a kiss, it could lead to other things, so I just pull away again, and I leave." The Post spoke with two people close to Hinton who said she told them about the hotel-room experience after it happened, including one who said it "really freaked her out." Hinton said it was a "power play" for "manipulation and control."
In response, Cuomo's communications director, Peter Ajemian, attacked Hinton as a public critic of Cuomo with an ax to grind (Hinton worked as Bill de Blasio's press secretary in 2015 and 2016). "This did not happen," he said. "Karen Hinton is a known antagonist of the governor's who is attempting to take advantage of this moment to score cheap points with made-up allegations from 21 years ago."
.

Another woman says the governor groped her late last year.
In early March, the Albany Times Union reported that the governor had "aggressively groped" a "much younger" aide who still works at the Capitol. The woman did not come forward herself; rather, a source with "direct knowledge" of the situation tipped off the paper, saying Cuomo stuck his hand inside the aide's blouse in November, after calling her to the governor's mansion to help him with his phone. In an interview with the Times Union, published April 7, the woman detailed what happened after he summoned her to the mansion. Cuomo came out from behind his desk, she said, and "he went for it." When she protested, "You're going to get us in trouble," the woman recalled, Cuomo slammed the door and said, "I don't care."
"He pulled me close and all I remember is seeing his hand, his big hand," she continued. "I remember looking down like, 'Holy shit.'" The woman says Cuomo said nothing, just reached under her shirt and grabbed one of her breasts, over her bra. She said he only stopped when she told him "you're crazy," which "was definitely not something that he wants to hear. It definitely was a hit to his ego. And then it was almost like instantly he was done … He turned around and walked back to his desk. He didn't say anything. I walked myself out to the front door and nothing was said … It was almost like I felt like a piece of garbage to him. I felt degraded."
The following month, after Boylan tweeted about her experience with the governor, the aide says Cuomo warned her that she "can never tell anyone" about what had happened. But she believes the governor groomed her for two years, continually subjecting her to physical contact — tight, frequent hugs; kisses on the cheek — and instigating personal conversations that became more solicitous after his breakup with girlfriend Sandra Lee. On one occasion, she says he remarked to her: "Oh, if you were single, the things that I would do to you."
Responding to the Times Union's initial report, Cuomo said he had "never done anything like this," calling the details "gut-wrenching." On April 7, his attorney Rita Glavin said in a statement that the governor "has repeatedly made clear that he never made inappropriate advances or inappropriately touched anyone," and that "the attorney general's review of this claim and others, including evolving details and new public statements by complainants or their surrogates, must be thorough, fair and provide the truth."
Alyssa McGrath, a current aide in Cuomo's office, accused him of sexual harassment.
On March 19, Alyssa McGrath became the first current aide in Cuomo's office to publicly accuse the governor of harassment, including ogling her body and making suggestive comments. McGrath, who is 33, told the Times that she worked with the aide who has accused Cuomo of groping and that the governor had "seemingly fostered an unusual work triangle with her and her friend." She said the governor was known for playing favorites among female staff. "We were told from the beginning that was a typical move of his," McGrath said. "Who was the girl of the week? Who was the girl of the month?"
She recalled an occasion when Cuomo asked her co-worker if she was going to try to meet men and "mingle" on a trip to Florida. "He called us 'mingle mamas' for the rest of the day," she said. She also described other behavior of Cuomo's that made her uncomfortable, including kissing her on the forehead at an office Christmas party in 2019, calling her "beautiful" in Italian, and "blatantly looking down my shirt."
In response to McGrath's allegations, Glavin said, "The governor has greeted men and women with hugs and a kiss of the cheek, forehead, or hand. Yes, he had posed for photographs with his arm around them. Yes, he uses Italian phrases like 'ciao bella' … None of this is remarkable, although it may be old-fashioned. He has made clear that he has never made inappropriate advances or inappropriately touched anyone."
A ninth person accused Cuomo of inappropriate conduct on March 29.
The latest woman to accuse Cuomo of inappropriate conduct is Sherry Vill, a New York City resident who said at a press conference on March 29 that he kissed her on both cheeks in a "highly sexual manner" and without her consent in 2017. Vill is a homeowner from Rochester who was receiving the governor for a public visit after the neighborhood suffered a severe storm; she said that inside her house, Cuomo "pulled me to him, he leaned down over me and kissed my cheek … in what I felt was a highly sexual manner." She said he later "forcibly grabbed my face and kissed my cheek."
Vill is being represented by Gloria Allred, who during the press conference showed a photo of Cuomo holding Vill's face and kissing her on her cheek. Vill said the governor also called her beautiful during the visit, and that she was embarrassed. "I felt as though he was coming on to me in my own home," Vill said.
.

New York State AG Letitia James will oversee an investigation.
In his apology statement, Cuomo repeated calls for "an outside, independent review that looks at these allegations" — but already the nature of that investigation has become an issue of contention. According to the Times Union, Cuomo initially "proposed a 'review' by an outside attorney, then floated the idea of having AG James and state Chief Judge Janet DiFiore select an outside attorney — both notions that James rejected as insufficient." By the time he released his apology, Cuomo had relented, granting James full purview over the choice of investigator. The Times Union reports Cuomo backed down after "intense bipartisan pressure from national and state politicians, and even from within his own administration, seeking a truly independent probe of the allegations."
On March 8, James appointed Joon H. Kim, formerly an acting U.S. attorney for New York's Southern District in Manhattan, and Anne L. Clark, an employment discrimination attorney, to lead the investigation.
Multiple state and congressional leaders have called for his resignation.
As the allegations against Cuomo continue to mount, so does the number of elected officials calling for his resignation. On March 11, following the Times Union's reporting, more than 55 Democratic state legislators called on Cuomo to step down. The following day, 12 Democratic members of New York's congressional delegation — including Representatives Jamaal Bowman, Mondaire Jones, and Alexandria Ocasio-Cortez — released statements concurrently, demanding that Cuomo resign.
"The repeated accusations against the Governor, and the manner in which he has responded to them, have made it impossible for him to continue to govern at this point," Representative Jerry Nadler said in a statement.
In a joint statement, Ocasio-Cortez and Bowman noted the "consistent and highly detailed" accusations against Cuomo, as well as reports that the governor intentionally obscured the coronavirus-death toll in nursing homes. "Unfortunately, the Governor is not only facing the accusation that he engaged in a pattern of sexual harassment and assault," their statement reads. "There is also the extensive report from the Attorney General that found the Cuomo administration hid data on COVID-19 nursing-home deaths from both the public and the state legislature."
On March 14, President Joseph Biden broke his silence on the allegations against Cuomo, supporting the AG's investigation but falling short of calling for his resignation. "I think the investigation is underway and we should see what it brings us," Biden told reporters.
This article has been updated with more information.