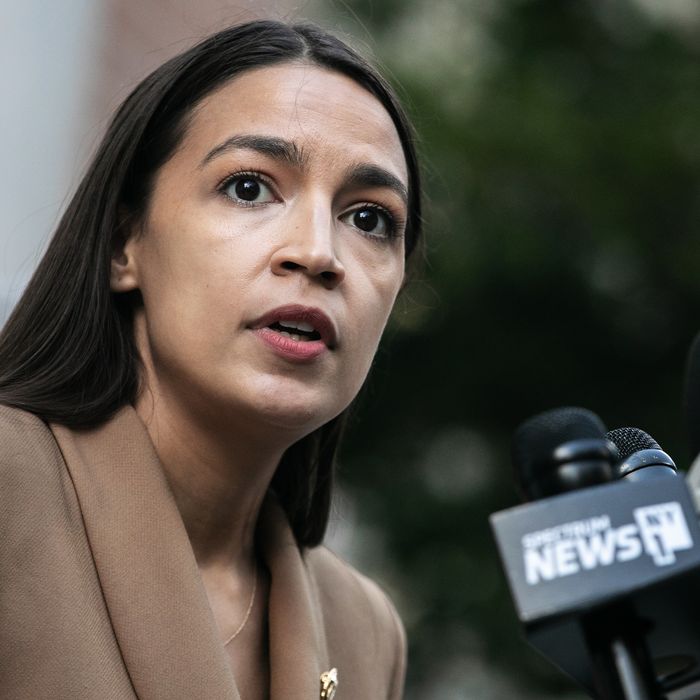 Photo: Bloomberg via Getty Images
New York representative Alexandria Ocasio-Cortez spent much of her virtual town hall last night criticizing the "completely inhumane and unacceptable, horrifying conditions" at the U.S.-Mexico border, taking both political parties to task for a crisis with many long-standing roots and systemic failures. Currently being detained by Customs and Border Protection are 5,767 children, the highest number ever since the department began recording. And there are a staggering 17,650 children in the custody of the federal government overall, including shelter facilities and other housing.
The Biden administration is struggling to process unaccompanied minors who have been picked up by Border Patrol fast enough, leaving many of them in the stark, abusive conditions of the detention centers that became notorious during Trump's family-separation policy: ice-cold cells with chained fences, with children using Mylar blankets and lacking adequate nutrition and hygiene.
"It's a result of the fact that we have built our immigration system on the same scaffolding of our incarceration system, and neither are just," Ocasio-Cortez said. She referenced the fact that the vast number of children who arrive unaccompanied at the border have family members in the United States, and yet the federal government insists on a long processing protocol that creates a "pileup of inhuman conditions." That backlog has been exacerbated by the COVID-19 pandemic, which has slowed down the process in all kinds of facilities and has decreased the number of available beds in shelters run by the Office of Refugee Resettlement, to which children are supposed to be promptly moved.
Ocasio-Cortez said that she didn't want to draw a "false equivalence" between the Biden and Trump administrations' border policies. But she did not excuse the Biden administration's role in perpetuating the injustices of our current immigration system, in which migrants are treated like prisoners instead of human beings. "This is not an invasion," nor is it a "new emergency," she said, echoing criticisms of the dehumanizing use of the word surge to describe the increasing number of people trying to cross the border. "Folks like to weaponize it and pretend that this is a new emergency. It's not, and we should be doing better by now," she said. "U.S. foreign policy has contributed to the destabilization of these regions and of the very countries that are mired in a lot of violence that these families and these children are fleeing … All of this is morally wrong. It's repugnant."