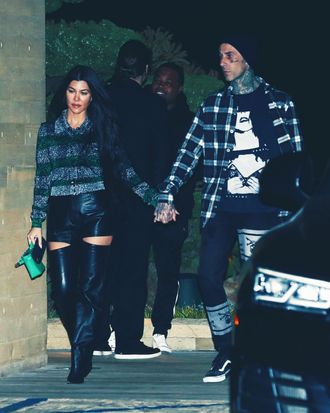 Kourtney Kardashian and Travis Barker.
Photo: Group/MEGA/GC Images
Oh, to be newly in love and so enamored of your new partner that you assume, because you are so horny for your beau, that everyone wants to watch the two of you groping each other and licking each other and sucking each other's fingers.
That last example (finger-sucking) is a reference to Kourtney Kardashian and Travis Barker, who appear to have arrived at this relationship milestone following three or so months of dating. Yesterday, Travis Instagrammed a number of remarkably horny photos of the two of them in honor of Kourtney's 42nd birthday. Of the photos in the the six-part series, Kourtney and Travis are making out in two, and another features Travis caressing Kourtney's feet. But the image that has elicited the strongest reaction is a short video of Kourtney sucking on Travis's thumb.
The footage is indeed unsettling. But … are Travis and Kourtney not trolling us? Recall their double date with Machine Gun Kelly and Meghan Fox at a UFC "mixed martial arts show" last month. There, the couple was apparently caught engaging in some public finger-sucking, which sparked quite the commotion online. Considering this previous incident, and the fact that Kourtney laughs in the video, it seems like the two of them may, in fact, be in on the joke. Or maybe Travis just posted the video because he wanted the world to watch his hot girlfriend erotically suck his thumb — in which case, I'm glad the couple is having fun being so unabashedly horny for one another. Either way, I'm happy for them. May they continue to enjoy each other's company and fingers.