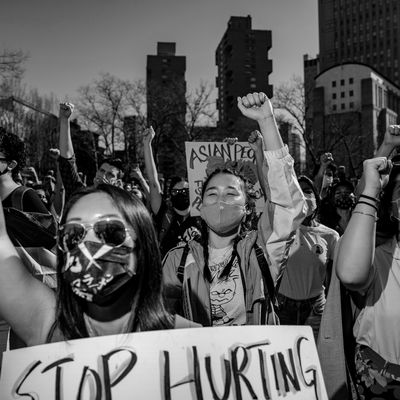 Stop Asian Hate protesters.
Photo: Amir Hamja/Bloomberg via Getty Images
Last week, yet another older Asian woman was brutally attacked in broad daylight in Manhattan. The New York Times reports that on March 29, around 11:40 a.m., a man kicked a 65-year-old woman to the ground, stomped on her head, made anti-Asian remarks, and yelled "you don't belong here." Police have since arrested a suspect, a 38-year-old man who was previously convicted of fatally stabbing his mother, and now faces felony hate-crime charges.
The attack occurred outside a luxury apartment building in midtown, where it was captured on surveillance video. The video also shows workers in the apartment lobby, who watch as the violent attack unfolds but don't intervene or offer help — a decision that has been met with widespread outrage. Following the incident, one of the workers closes the apartment building's front door while the woman is left lying on the ground, with no one coming to her assistance.
According to police, the victim — who has been identified as Vilma Kari, who immigrated from the Philippines decades ago — sustained a "serious physical injury" and was transported to NYU Langone Medical Center in Manhattan by EMS; she was discharged on March 30. The Brodsky Organization, the management company that owns the building, has also apologized for its staff's failure to intervene, announcing on April 6 that the two doormen who stood by as the attack unfolded have been fired for failing to follow "required emergency and safety protocols."
The suspected attacker, Brandon Elliot, 38, was convicted in 2002 of fatally stabbing his mother and was released from prison in November 2019 on lifetime parole. According to AP News, Elliot was apprehended in the early hours of March 31 at a midtown hotel that had been serving as a homeless shelter, where he had been living. Now, he's facing two counts of assault as a hate crime, and one count each of attempted assault as a hate crime, assault, and attempted assault.
The attack comes amid a surge of violence and hate crimes against Asian Americans, including a mass shooting in Atlanta last month, in which six Asian women were killed. In March alone, numerous Asian people have been attacked in New York City. "We continue to see these horrible, disgusting attacks on Asian American New Yorkers and it's got to end, and we're going to use every tool we have," Mayor Bill de Blasio said during a briefing on March 30, calling the attack "disgusting" and "outrageous." Leading mayoral candidate Andrew Yang also spoke out against the recent string of assaults, saying he's "deeply affected by these incidents," adding, "I could see my mother in that situation."
This post has been updated.