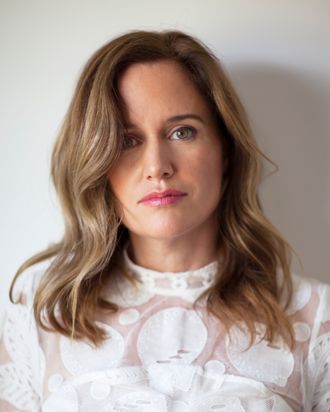 Writing for New York Magazine has been the best job I've ever had, and over the course of my six years here, Ask Polly has had the smartest, most open-hearted readers I've ever encountered. Whether I was comparing radishes to potatoes or murderous in-laws to monsters, whether I was urging readers to strap on a second guitar, eat a giant platter of shit, dig for their passions, keep the faith that new friends are everywhere, or stop praying to the gods of I'm Not Enough, Polly's readers were right there with me, like a team of premium goons with their own goons. We had an amazing run together, and now we're going to strap on a third guitar over at Substack, where Ask Polly will run twice a week and I'll be free to wild out in brand-new (and also old-school Polly) ways.
No one succeeds in this world without a lot of help. I didn't just get lucky. A bunch of generous people came out of the woodwork to support me. Stella Bugbee essentially made my career back in 2014 when she lured Ask Polly from The Awl to the Cut, and I'll always be grateful for her vision, her leadership, and her friendship. Thanks also to Adam Moss for embracing my writing from day one, to David Haskell for continuing to put his faith in me, and to all of the smart editors who made Polly better each week. Finally, I owe a huge debt of gratitude to Choire Sicha, who embraced the idea of a weirdly aggressive advice column and then granted me full intellectual property rights to it. That's a rare thing in the media world, and Choire deserves at least half of these goons and a third of these big platters of shit, too.
As a woman who's been writing for online magazines since the literal start of online magazines, I've always hoped to run Ask Polly independently some day, in part so I could emulate the generous people who got me here. That's a big reason why I'm expanding Ask Polly: to find new ways to encourage artists and writers to bring their oddest, most unique work out into the light of day, and to show people who are struggling that staring down your worst problems doesn't have to feel humiliating — it can be inspiring and invigorating and even enjoyable. I used to joke with Stella that I'd write Ask Polly every day of the week if she'd let me. Now I have the chance to do so much more — short columns that give you a taste of hope first thing in the morning, and longer philosophical essays that pry apart your mundane notions of where you are and where you're headed. I'm planning to interview regular people about how they break through their insecurities in order to feel good every day, and I also want to run a series focused on building a personal belief system that sustains you.
I'm still a grumbly cynic on some days, and other days I fall prey to anxious looping thoughts that tell me I'm an embarrassment to humankind. My belief is that this world is structured to fray our nerves instead of soothing us, telling us that we'll always be unworthy and unsteady instead of honoring our sublime imperfections. I feel like my calling is to remind my readers that their quirks and even their flaws are what make them divine. I don't know exactly what shape Polly will take, but I can guarantee that we'll have a lot of fun, so please sign up for the new Ask Polly newsletter right now.
In closing, I just want to thank every single Ask Polly reader for all you've given me. You've made me cry and worry and learn so many things, but you've also taught me to believe in myself and to believe in joy, something I didn't think was real or sustainable for so many years. Please, no matter what else you do, never stop listening to that long-buried, stubborn voice inside you that believes in joy. That voice knows that you don't have to change a thing about yourself to be happy or find love or have a good life. You just need to slow down and listen to the wild, pure magic inside you. When you trust that magic, you'll discover that you're a million times more brilliant than you thought you were, and this broken world is full of love for you. It's just waiting for you to open your eyes.
All letters to askpolly@nymag.com become the property of Ask Polly and New York Media LLC and will be edited for length, clarity, and grammatical correctness.