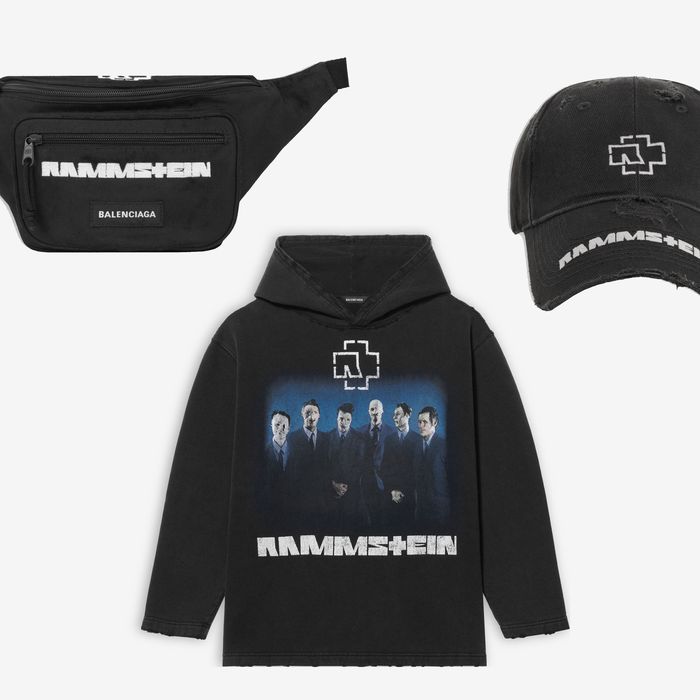 Photo: Courtesy of Balenciaga. Rammstein portrait artwork by artist Gottfried Helnwein.
Last year, Balenciaga partnered with Apple Music on a series of curated playlists. The first one, titled, "Hello, My Name Is Demna," was put together by designer Demna Gvasalia himself and included almost 13 hours of his favorite music, by everyone from Rammstein to Cardi B. Now, he's invited the '90s German industrial metal group to curate their own list of favorites — the stuff they listen to when they want to relax or get inspired — as a part of the ongoing project.
Every few months, Gvasalia will invite another musical artist to participate, creating a Balenciaga-branded merch capsule to be launched alongside each Apple Music playlist. For Rammstein, he's designed a limited-edition, unisex line of clothing and accessories featuring the band's official logo and an outtake from an iconic photo shoot. So basically, unreleased vintage tour merch. It might look familiar: Gvasalia collaborated with the band once before when he was at Vetements, and is such a fan that he's been known to wear the merch himself.
To announce the Rammstein capsule collaboration, Balenciaga photographed die-hard Rammstein fans wearing the highly covetable new pieces, surrounded by their own personal collections of rare ephemera. Below, we spoke to two of them about why they love the band and its stuff — designer or otherwise.
Helena
What is your favorite Rammstein song?
It's very hard to pick one, but I will go with "Mutter." I will never get bored of screaming "MUTTEEERRRRRR." "Don't Die Before I Do" is a close second.
What do you love about the band?
What I like most are the performances with fireworks, explosions, pyrotechnics, maneuvers with torches, and unusual costumes, which make the shows spectacular.
What drives you to collect the merch?
My passion for the band. It's not the quantity that interests me, otherwise I would have already doubled it. I love my CDs and DVDs, and my collection grows every month.
Torsten
What do you love about Rammstein?
I love the lyrics by Till Lindemann. The writing is so unique! And of course it just fits together so well with the melody. But Till's voice is the cherry on top; pure goose bumps.
What drives you to collect merch?
For me, wherever it says Rammstein, there is art.
The Balenciaga x Rammstein capsule is available at Balenciaga stores and online.