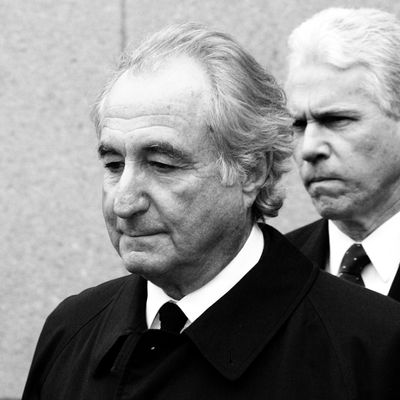 Bernie Madoff
Photo: David Karp/AP/Shutterstock
Admitted scammer Bernie Madoff has died in federal prison at the age of 82, apparently from natural causes. A source familiar with the matter told the Associated Press that Madoff passed early Wednesday morning at the Federal Medical Center in Butner, North Carolina.
Madoff will most likely be remembered as the architect of a sprawling pyramid scheme, one that siphoned off as much as $65 billion from tens of thousands of clients, including Steven Spielberg, the actor Kevin Bacon, and Elie Wiesel, a winner of the Nobel Peace Prize. His Bernard L. Madoff Investment Securities effectively took investors' capital and, per CNBC, dumped it into a Chase bank account. Madoff would use this slush fund to pay new investors, covering his tracks with fraudulent statements documenting "returns" that didn't exist. The grift came crashing down in 2008 after Madoff's two sons (now deceased) tipped off law enforcement.
Madoff pleaded guilty to securities fraud, among other charges, in 2009, saying he was "deeply sorry and ashamed" about the Ponzi scheme. He was serving a 150-year prison sentence when he died weeks short of his 83rd birthday. In July 2019, his attorneys sought an early release, and reiterated their request last year, on the grounds that Madoff's terminal kidney disease gave him "less than 18 months to live." A judge upheld the sentence, ruling that Madoff committed "one of the most egregious financial crimes of all time," one that took a "staggering human toll" still felt decades later.