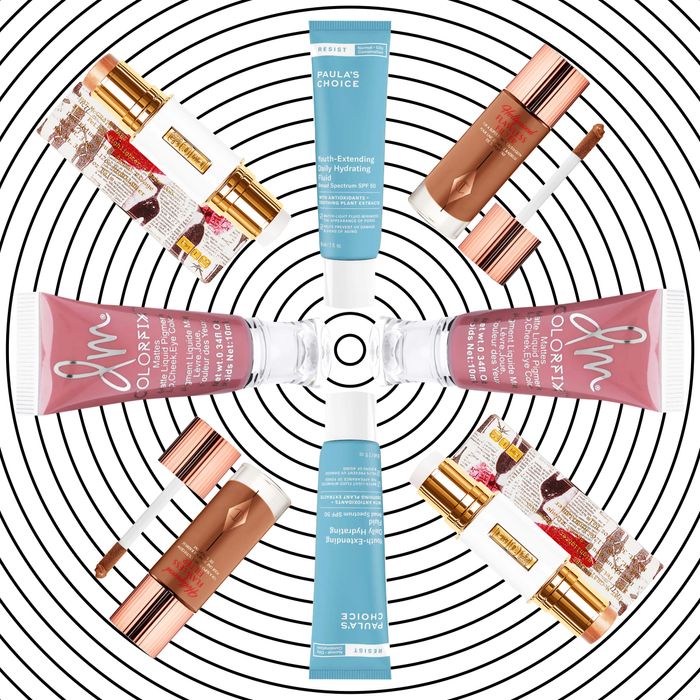 Photo-Illustration: by The Cut; Photos: Retailer
Justin Bieber gets his peaches from Georgia, and you can get all your spring beauty buys at Sephora. Starting today, the retailer is launching its giant Beauty Insider Spring Savings event. Everything is on sale with the code OMGSPRING, with markdowns according to your Sephora Rewards status. For Rouge, the top tier, you'll receive 20 percent off from April 9–19. VIB Rouge can get 15 percent off from April 13–19. Everyone else can get 10 percent off beginning April 15.
Read on for a few of our top picks, and happy spring shopping.
The Glow Booster
One of my desires for post-mask life is to look dewy to the max. I will absolutely be reaching for Charlotte Tilbury's Hollywood Flawless Filter, which is part highlighter, part very light foundation. You can put this on all over your face, or just in strategic areas, and you will look incandescent. Try the mini size to get a sense of how it will work for you. — Kathleen Hou, beauty director
The World's Finest Brow Pencil


If you've ever fallen into an Instagram hole marveling at micro-bladed brow before-and-afters, this pencil will fill in some of the FOMO. Measuring in at 0.9mm, its ultrafine tip is one of the thinnest, most precise pencils on the market, making it easy to get that professional micro-bladed look at home without all the numbing cream and skin scraping that's typically involved. — Erica Smith, beauty writer
The Pigment for Everywhere
This is like the Gorilla Glue of pigment — in a good way. Just a little bit works as an eyeshadow, a blush, or a lipstick, and it comfortably clings to your skin for 24 hours, with no creasing or smudging (it even works underwater). Makeup artist Danessa Myricks purposefully formulated her line to have bright, uncompromising color for all skin tones, and hers is one of the newest Black-owned businesses to enter Sephora. — K.H.
The Perky Mascara
A lot of my friends have texted me, demanding to know my favorite clean mascara. If you're also curious, it's this one. It elegantly lengthens and separates, without any chunks or clumps. This mascara would look good going to Erewhon Market. — K.H.
A Sunscreen You'll Actually Want to Put On
Good news: Paula's Choice is now available at Sephora, including this crowd-pleasing sunscreen. It has a surprisingly lightweight and milky texture for an SPF 50, and it goes on as smooth as everything else in your skin-care routine. Rather than a weird white cast or greasy finish, it leaves skin looking subtly glowy and feeling very much moisturized throughout the day. — E.S.
A Sweet Treat for Your Scalp
With swampy, sweaty season fast approaching, your scalp will thank you for adding this invigorating shampoo into the lineup. The exfoliating blend of peppermint, spearmint, charcoal, coconut, and tea tree oils lifts buildup and soothes any itchiness, leaving your scalp tingly clean and your bathroom scented like Junior Mints — a very nice bonus. — E.S.
The Best Highlighter
I have tried many highlighters and always return to this one. This is one of the few that makes my skin look like I just turned on its lights, and accomplishes it without using chunky glitter particles or tricky violet pigments. Yes, it's pricey, but just a little bit (I like to dot it in the inner corners of the eye and on cheekbones), makes a big, glowy difference. — K.H.
The Serum for Thirsty Skin
Using this serum reminds me of taking the longest gulp of water after enduring a workout class that's way beyond my fitness level. It has that same Ahhhh, I've never tasted anything so good feeling for skin. With lots of hyaluronic acid, squalane, and lactic acid, I love how it instantly makes my skin feel less thirsty and look plumper and bouncier. — K.H.
The Rich Skin Serum for Less
If you are an Augustinus Bader-head, I feel like it's my duty to point out that it is on sale (and it rarely is). — K.H.
A Serum for Lingering Maskne
Drunk Elephant recently added this skin-strengthening and radiance-boosting serum to its lineup, just in time to clean up any lingering battle scars from the now yearlong battle with maskne. Packed with 10 percent lactic acid (the same gently exfoliating stuff in Sunday Riley Good Genes times two) and plumping signal peptides, this silky serum is a good overall reset for skin that's looking a little run-down lately. — E.S.
The Most Luxurious Sheet Mask
Back in the day, these were the sheet masks that started the whole trend. They're soaked with the toner Cate Blanchett had used for decades; legendary makeup artist Pat McGrath used to use them on her models backstage. I never, ever see them on sale, so scoop them up now. — K.H.