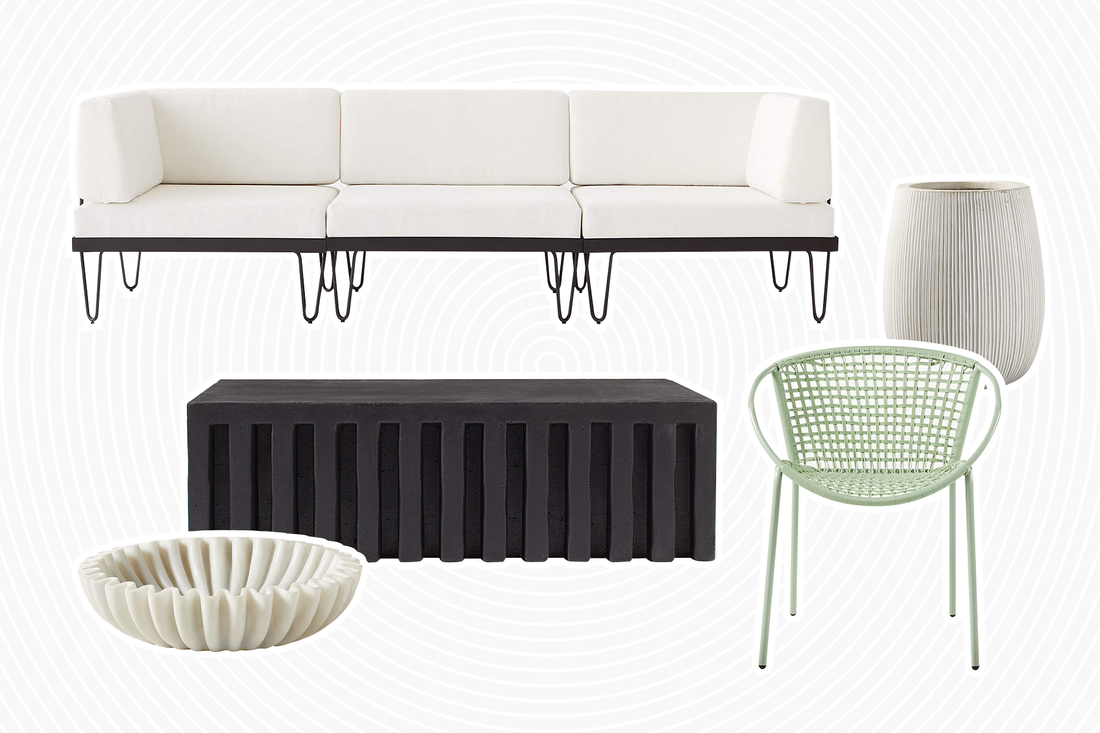 Photo-Illustration: Ashlie Juarbe
Many of us have spent the majority of the past year inside our own homes, trying out bread-baking while continuously rearranging the furniture. As life warms up this spring, though, it's time to look at our homes in new ways — and to take full advantage of sunnier days outside. Sprucing up an outdoor space, whether that means an apartment balcony or a cozy yard, is now more precious than ever — and it doesn't take a total overhaul to make your space as comfortable as your favorite loungewear outfit.
Dianna Cohen, the mastermind behind the overnight-success haircare brand Crown Affair, plans to surround herself with things that spark joy — and she's revamping her spacious new Miami apartment with upgraded furniture, predominantly outdoor pieces, from CB2's range of modern furniture, planters, and more. After years as a New Yorker, she's embracing the great outdoors in the Sunshine State and picking out new pieces to last. "I am such a believer that the things that you choose to surround yourself with become the visual literacy of your life," Cohen says. With nearby waters and a brand new patio, she's making sure her space matches her company's ethos: slowing down to enjoy the view. Shop the CB2 picks she'd use to bring her outdoor space to life, inspired by Italian villa-living, below.
"Thinking about your outdoor space as an extension of your inside apartment is essential. I think this Japanese style is very calming. It'll go well with the general black and white theme I'm visualizing for this space."
"A lot of outdoor furniture can feel a little beachy. And, what I love about this three-piece sectional, which I legit want, is that it feels design-minded while still being outdoorsy. I also love that it's elevated off the ground — feels fresh."
"There's this Danish artist named Kasper Sonne that made these monoliths, and there's this cool, heavy feeling that reminds me of this coffee table. It feels minimal and clean while still being substantial, and I love that duality."
"I prefer a round table for hosting [safely]. I think it's nice when you have…easy conversation; it just feels open. It has that circularity that I love around zen lines."
"I want to pair that coffee table with these Crown-Affair-green chairs. I love this color. It's a big part of the brand's vibe."
"This could literally be a $3,000 sculpture from France. That's one of the things I love about CB2: It's such high design for such a mindful price point."
"I need some excellent lounge chairs, and these feel chic and easy. I like the clean lines for the terrace, and these would look great next to the Zen planter, as well, with a pretty little bonsai tree inside."
"Can we talk about the Playa balls? I love these as a little footrest for people [safely] hanging around outside. It also adds a nice balance to the verticality of trees and planters."
"There's something very organic about the texture of these. They feel wabi-sabi-ish, and I think they would look pretty with everything else that I selected."
"Okay — wait, I'm obsessed with the Lunar Collection. I got this book in England a few years ago. It's called Mold is Beautiful. It's all in French. It features all these photos of mold that are very much like this lunar aesthetic, I would say. I'm here for a lunar planter and anything that feels otherworldly."
This advertising content was produced in collaboration between Vox Creative and our sponsor, without involvement from Vox Media editorial staff.