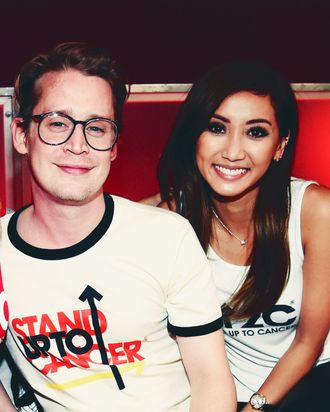 Macaulay Culkin and Brenda Song.
Photo: Kevin Mazur/Getty Images
Drumroll, please: It is celebrity baby news time! Brenda Song, who famously lit a fire on a Facebook exec's bed in The Social Network, and Macaulay Culkin, whom you may know as Home Alone rascal Kevin, have welcomed their first child. His name is Dakota, in honor of Culkin's late sister, and he was born on Monday, April 5, in Los Angeles.
The couple released the news to Esquire on Monday, along with the following statement: "We're overjoyed."
Song and Culkin were first linked in 2017, after meeting on the set of Changeland. Song has previously suggested that their common histories as child actors — she appeared in a dizzying number of Disney shows, such as the Suite Life of Zack and Cody and Hannah Montana — cemented a connection: "You just look each other in the eye and you nod and we know."
Culkin and Song have seemingly been planning on starting a family for some time. In 2019, Culkin told Joe Rogan that they were "gonna make some babies," and he confirmed to Esquire last year that they "practice a lot." Song also told the magazine that "you can't be around him and not be happy," in reference to her partner, which is sweet.
As for Dakota, I'm sure you're wondering: How big is the baby? A reported 6 pounds and 14 ounces. No word yet on his middle name, although I am personally hoping it isn't Macaulay Culkin! (Been there, done that.)